Awesome location
Reviewed on 2019-07-26 by

Robin S.

from Dalton, GA United States

Updated on 2019-07-26

Services from rental manager

Cleanliness

Location

Property condition

Wonderful property and a great location! The management company checked on us through out the week. Would definitely stay in Carlin Ward again.

We are so pleased to know you enjoyed your recent stay with us at Carlin Ward Cottage! Thank you so much for your praise, and we look forward to welcoming you back on your next visit to Rosemary Beach!
- Ally at 30A Luxury Vacations

All Good
Reviewed on 2019-06-18 by

Bruce M.

from Fort Worth, TX United States

Updated on 2019-06-18

Services from rental manager

Cleanliness

Location

Property condition

All Good

Thank you so much for taking the time to leave your review of Carlin's Ward Cottage! It was our pleasure to accommodate you and your guests. We hope that we have the opportunity to welcome you again to beautiful Rosemary Beach!

-Ally at 30A Luxury Vacations
Carlin Ward Cottage is a Fantastic Property!
Reviewed on 2019-05-25 by

Steve S.

from Wichita Falls, TX United States

Updated on 2019-05-25

Services from rental manager

Cleanliness

Location

Property condition

Just returned home from Rosemary Beach. The Carlin Ward Cottage is a beautiful 3 story property located a block from restaurants and shopping at Barrett Square. It is also a very short walk under tree lined paths to the beach. 30A Luxury Vacations is responsible for the maintenance of this property. The house was immaculate with a huge updated kitchen, large dining table, high end appliances, bath products, linens, towels and beautiful furnishings. We found 30A&#x2019;s app to be very helpful with communication, including accessing the property, beach, bikes ( brand new ) and recommended restaurants, etc. as well as instructions to operating a new and very large Samsung Smart TV in the living room that included Apple TV and a Sonos sound system. 30A checked on us multiple times during our stay to ensure that we were comfortable and that the house was to our liking. We were pampered from day 1 by 30A staff and genuinely hated to see our vacation come to an end. We will return next year to this beautiful property and beach! <br/><br/>

Thank you very much for your lovely review of Carlin Ward Cottage! We are so thrilled to know you enjoyed your stay with us in Rosemary Beach. I am delighted to hear that our team and our exclusive amenities made your experience so special. Please let us know if we can be of any assistance in booking your future vacation!
- Ally at 30A Luxury Vacations
Easter at Carlin
Reviewed on 2019-04-24 by from Atlanta, GA United States
Updated on 2019-04-24
Services from rental manager
Cleanliness
Location
Property condition
Great!!
Thank you so much for the excellent feedback of your recent stay at Carlin Ward Cottage and giving us our first review! The ease of accessibility to the hot spots of the area and amenities is tough to beat. It was our pleasure to accommodate you and your guests. We hope that we have the opportunity to welcome you again to beautiful Rosemary Beach!
-Ally at 30A Luxury Vacations
Beds
1 King
1 Queen
2 Twin
1 Bunk
Carlin Ward Cottage - In Rosemary Beach-One Block From Shops & Restaurants!!
Convenience
Area FitnessCenter
Nearby Medical Services
Nearby Grocery
Outlet Shopping
Movie Theatres
4 Private Neighborhood Pools
Unit Code: RB-CARL1
AMENITY
king
outdoor shower
queen
shower
toilet
Leave a Review
[2]
Business
Nearby ATM
Nearby Post Office
Nearby FedEx
Nearby Bank
Nearby UPS Store
Neaby Publix Grocery
Nearby Winn Dixie
GENERAL
Air Conditioning
Clothes Dryer
Hair Dryer
Heating
Internet
Iron & Board
Linens Provided
Living Room
Parking
Towels Provided
Washing Machine
ENTERTAINMENT
Satellite / Cable
Stereo
Television
KITCHEN
Coffee Maker
Dishes & Utensils
Dishwasher
Kitchen
Microwave
Oven
Refrigerator
Stove
Toaster
161 Wiggle Lane
32461
Rosemary Beach
,
FL
United States
30° 16' 52.6368" N, 86° 0' 52.7148" W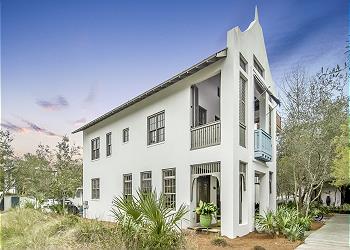 [4]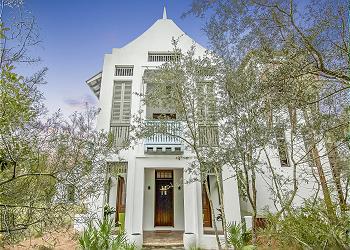 [5]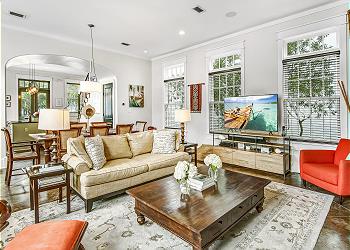 [6]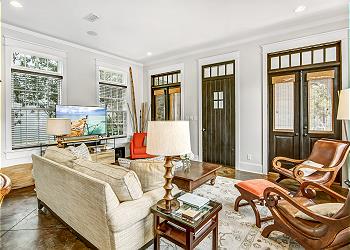 [7]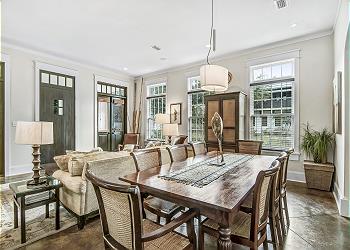 [8]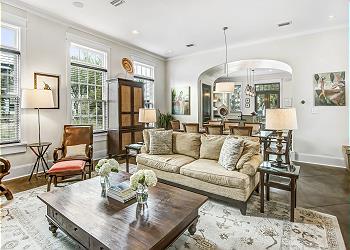 [9]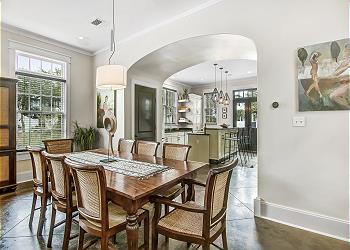 [10]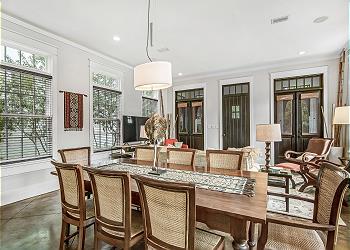 [11]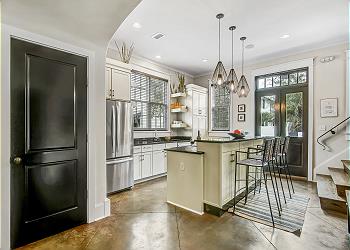 [12]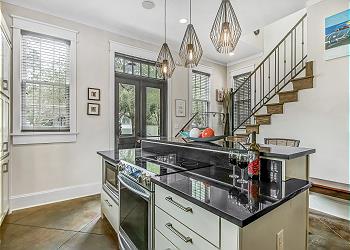 [13]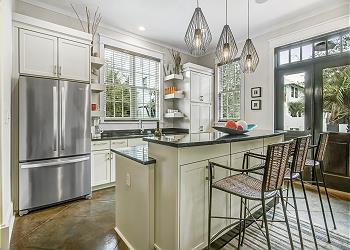 [14]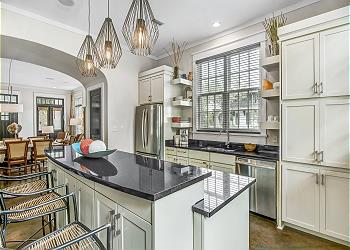 [15]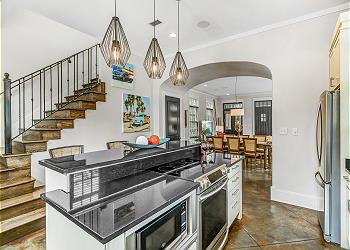 [16]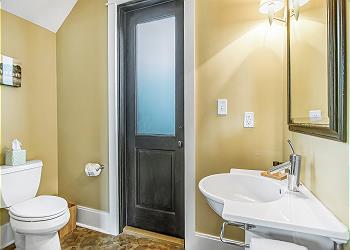 [17]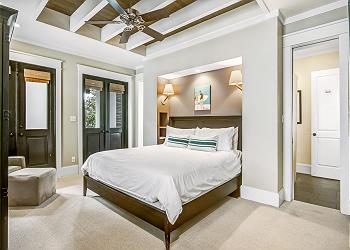 [18]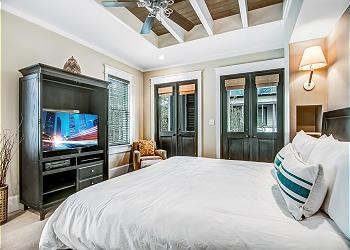 [19]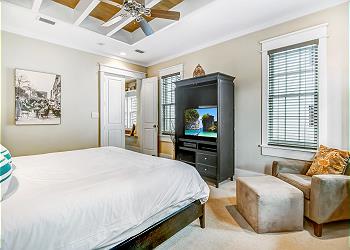 [20]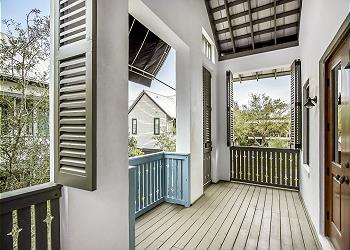 [21]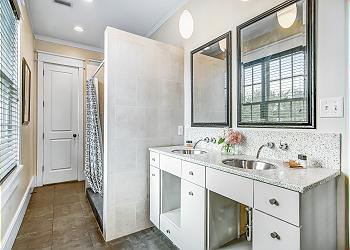 [22]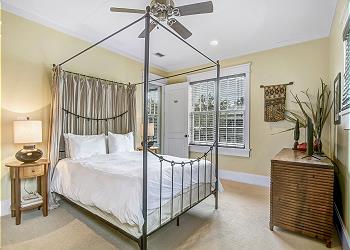 [23]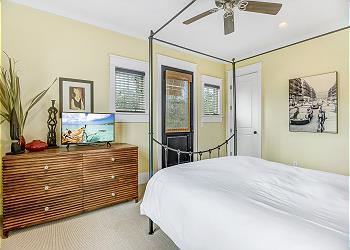 [24]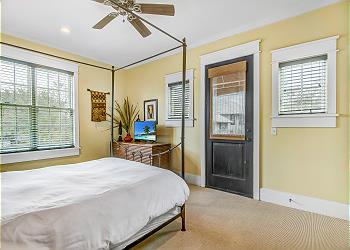 [25]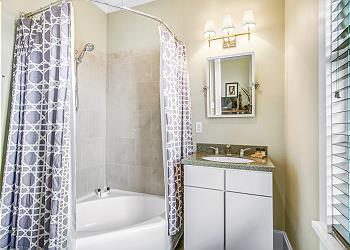 [26]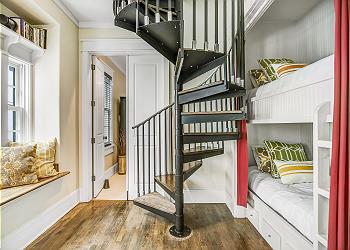 [27]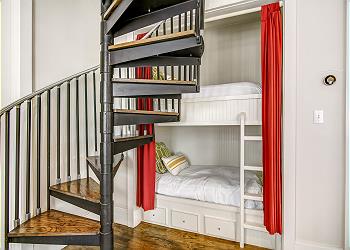 [28]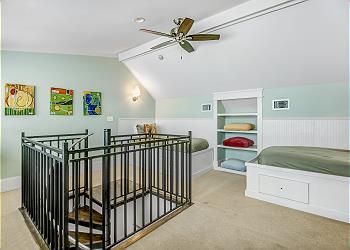 [29]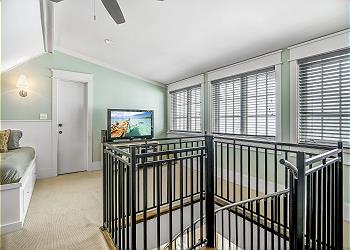 [30]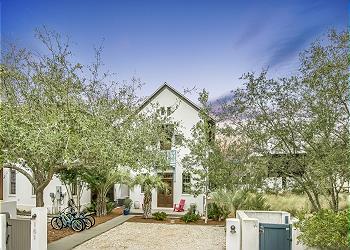 [31]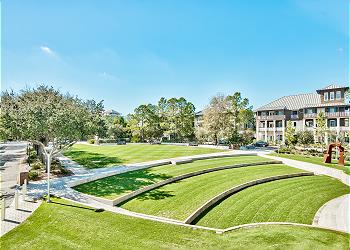 [32]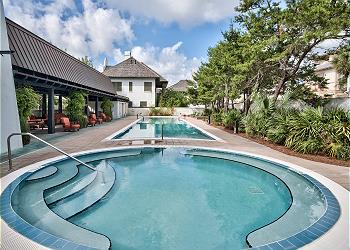 [33]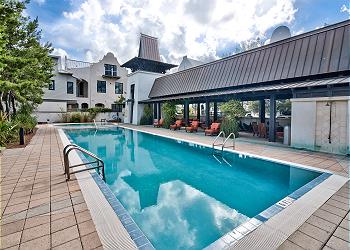 [34]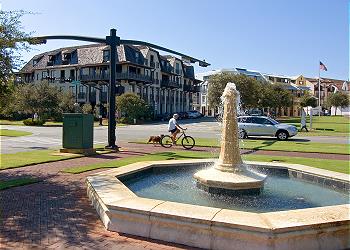 [35]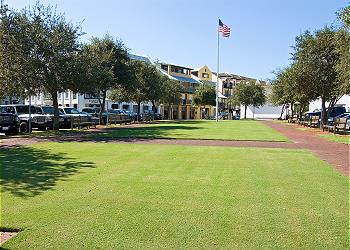 [36]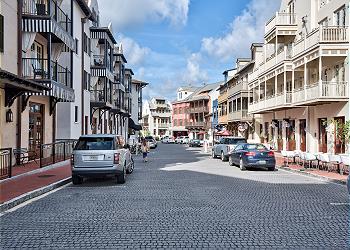 [37]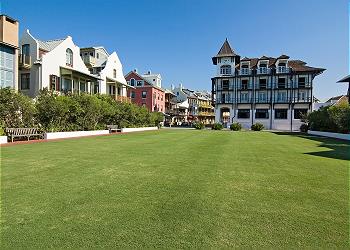 [38]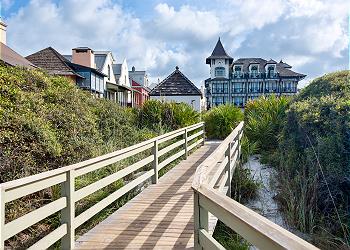 [39]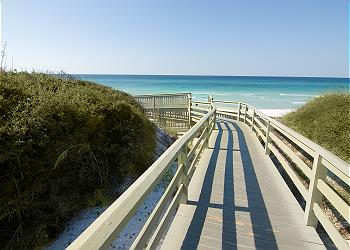 [40]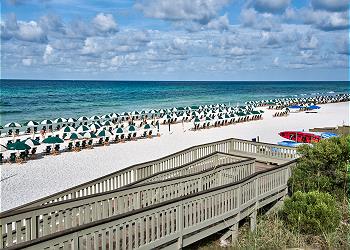 [41]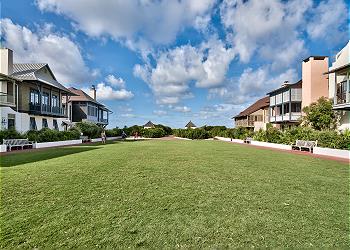 [42]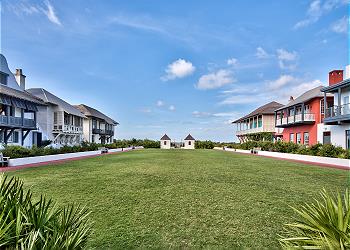 [43]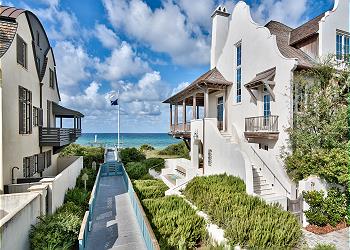 [44]
[45]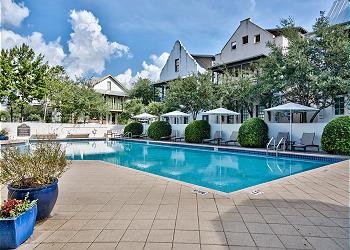 [46]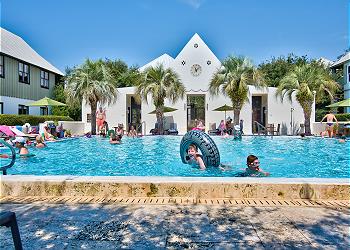 [47]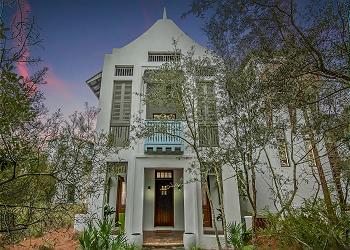 [48]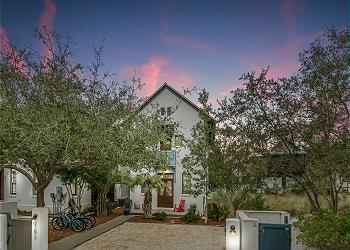 [49]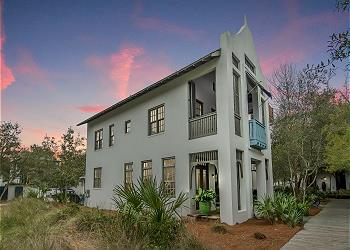 [50]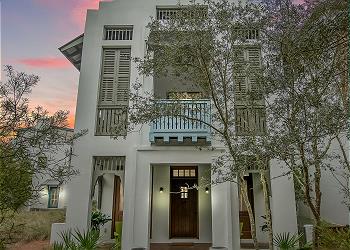 [51]
3 Bedrooms
2.5 Baths
Take a break from everyday life and start your adventure at the Carlin Ward Cottage! Coastal West Indies decor accompanied by African accents throughout bring an unparalleled element of culture & style to this 3 story beach abode. The common areas on the 1st floor are welcoming with an open concept. The front door opens onto one of many beach boardwalk paths, offering easy access to the shops & restaurants of Rosemary Beach but most importantly the beach!
The upper levels of the Carlin Ward Cottage feature organic textures & artwork in each of the 3 bedrooms. The master suite & guest bedroom are both located on the 2nd level of the home. The master suite offers a king bed, plus a large private balcony! The guest bedroom is cozy with a small private balcony and en-suite bathroom. Following the spiral staircase up to the 3rd floor, you'll encounter an open loft with 2 twin beds, treetop views, & flat screen TV. A nice sized courtyard is located just off the 2 car parking pad complete with 2 patio lounge chairs, a gas grill, and 4 complimentary adult bikes.
**There is currently no construction in progress next door.**
Home Highlights:
• 3 bedrooms, 2.5 bathrooms
• Bedding: 1 King, 1 Queen, & 4 Twins
• Pet-Friendly Property (all pets must be approved)
• Located on beach boardwalk path
• Stainless steel appliances
• Upgraded Audio/Video with 55" Samsung Smart 4K HDTV, Sonos Sound System, Apple TV, Logitech Elite Remote
• Home Automation Thermostats and Yale Lock that you can control with our guest mobile app.
• Private parking pad for 2 vehicles
• Close proximity to shops & restaurants of Barrett Square
• Gas grill
• 4 free adult bikes
1st Floor
• Fully equipped kitchen
• Stainless steel appliances
• Breakfast bar with seating for 3
• Dining room table with seating for up to 8
• Living room, furnished with couch & three lounge chairs
• Half bath connected to the outdoor shower
• Laundry room, stackable washer & dryer
2nd Floor
• Master suite with king bed, large private balcony
• Guest bedroom with queen bed, small private balcony
• Master bathroom, double vanity & large shower
• Private guest bathroom, shower/tub combo
• Bunk bed located at base of spiral staircase
3rd Floor
• 2 twin beds
• Treetop views
• Flat screen TV
Outdoor
Patio
Balcony
Gas Grill
Outdoor Shower
Tennis
Beach
Private Beach Access
Geographic
Near Beach
Close to Town Center
Dates
Price
08/18/19 - 08/22/19

$277

/nt

08/18/19 - 08/22/19

$518

/nt

08/25/19 - 08/29/19

$277

/nt

08/25/19 - 08/29/19

$518

/nt

09/01/19 - 09/05/19

$277

/nt

09/01/19 - 09/05/19

$518

/nt

09/08/19 - 09/12/19

$277

/nt

09/08/19 - 09/12/19

$518

/nt

09/15/19 - 09/19/19

$277

/nt

09/15/19 - 09/19/19

$518

/nt

09/22/19 - 09/26/19

$277

/nt

09/22/19 - 09/26/19

$518

/nt

09/29/19 - 10/03/19

$277

/nt

09/29/19 - 10/03/19

$518

/nt

10/06/19 - 10/10/19

$277

/nt

10/06/19 - 10/10/19

$518

/nt

10/13/19 - 10/17/19

$277

/nt

10/13/19 - 10/17/19

$518

/nt

10/20/19 - 10/24/19

$277

/nt

10/20/19 - 10/24/19

$518

/nt

10/27/19 - 10/31/19

$277

/nt

10/27/19 - 10/31/19

$518

/nt

11/03/19 - 11/07/19

$277

/nt

11/03/19 - 11/07/19

$518

/nt

11/10/19 - 11/14/19

$277

/nt

11/10/19 - 11/14/19

$518

/nt

11/17/19 - 11/21/19

$277

/nt

11/17/19 - 11/21/19

$518

/nt

11/24/19 - 11/28/19

$277

/nt

11/24/19 - 11/28/19

$518

/nt

12/01/19 - 12/05/19

$277

/nt

12/01/19 - 12/05/19

$518

/nt

12/08/19 - 12/12/19

$277

/nt

12/08/19 - 12/12/19

$518

/nt

12/15/19 - 12/19/19

$277

/nt

12/15/19 - 12/19/19

$518

/nt

12/22/19 - 12/26/19

$277

/nt

12/22/19 - 12/26/19

$518

/nt

12/29/19 - 01/02/20

$277

/nt

12/29/19 - 01/02/20

$518

/nt

01/05/20 - 01/09/20

$277

/nt

01/05/20 - 01/09/20

$518

/nt

01/12/20 - 01/16/20

$277

/nt

01/12/20 - 01/16/20

$518

/nt

01/19/20 - 01/23/20

$277

/nt

01/19/20 - 01/23/20

$518

/nt

01/26/20 - 01/30/20

$277

/nt

01/26/20 - 01/30/20

$518

/nt

02/02/20 - 02/06/20

$277

/nt

02/02/20 - 02/06/20

$518

/nt

02/09/20 - 02/13/20

$277

/nt

02/09/20 - 02/13/20

$518

/nt

02/16/20 - 02/20/20

$277

/nt

02/16/20 - 02/20/20

$518

/nt

02/23/20 - 02/27/20

$277

/nt

02/23/20 - 02/27/20

$518

/nt

03/01/20 - 03/05/20

$277

/nt

03/01/20 - 03/05/20

$518

/nt

03/08/20 - 03/12/20

$277

/nt

03/08/20 - 03/12/20

$518

/nt

03/15/20 - 03/19/20

$277

/nt

03/15/20 - 03/19/20

$518

/nt

03/22/20 - 03/26/20

$277

/nt

03/22/20 - 03/26/20

$518

/nt

03/29/20 - 04/02/20

$277

/nt

03/29/20 - 04/02/20

$518

/nt

04/05/20 - 04/09/20

$277

/nt

04/05/20 - 04/09/20

$518

/nt

04/12/20 - 04/16/20

$277

/nt

04/12/20 - 04/16/20

$518

/nt

04/19/20 - 04/23/20

$277

/nt

04/19/20 - 04/23/20

$518

/nt

04/26/20 - 04/30/20

$277

/nt

04/26/20 - 04/30/20

$518

/nt

05/03/20 - 05/07/20

$277

/nt

05/03/20 - 05/07/20

$518

/nt

05/10/20 - 05/14/20

$277

/nt

05/10/20 - 05/14/20

$518

/nt

05/17/20 - 05/21/20

$277

/nt

05/17/20 - 05/21/20

$518

/nt

05/24/20 - 05/28/20

$277

/nt

05/24/20 - 05/28/20

$518

/nt

05/31/20 - 06/04/20

$277

/nt

05/31/20 - 06/04/20

$518

/nt

06/07/20 - 06/11/20

$277

/nt

06/07/20 - 06/11/20

$518

/nt

06/14/20 - 06/18/20

$277

/nt

06/14/20 - 06/18/20

$518

/nt

06/21/20 - 06/25/20

$277

/nt

06/21/20 - 06/25/20

$518

/nt

06/28/20 - 07/02/20

$277

/nt

06/28/20 - 07/02/20

$518

/nt

07/05/20 - 07/09/20

$277

/nt

07/05/20 - 07/09/20

$518

/nt

07/12/20 - 07/16/20

$277

/nt

07/12/20 - 07/16/20

$518

/nt

07/19/20 - 07/23/20

$277

/nt

07/19/20 - 07/23/20

$518

/nt

07/26/20 - 07/30/20

$277

/nt

07/26/20 - 07/30/20

$518

/nt

08/02/20 - 08/06/20

$277

/nt

08/02/20 - 08/06/20

$518

/nt

08/09/20 - 08/13/20

$277

/nt

08/09/20 - 08/13/20

$518

/nt

08/16/20 - 08/20/20

$277

/nt

08/16/20 - 08/20/20

$518

/nt

08/23/20 - 08/27/20

$277

/nt

08/23/20 - 08/27/20

$518

/nt

08/30/20 - 09/03/20

$277

/nt

08/30/20 - 09/03/20

$518

/nt

09/06/20 - 09/10/20

$277

/nt

09/06/20 - 09/10/20

$518

/nt

09/13/20 - 09/17/20

$277

/nt

09/13/20 - 09/17/20

$518

/nt

09/20/20 - 09/24/20

$277

/nt

09/20/20 - 09/24/20

$518

/nt

09/27/20 - 10/01/20

$277

/nt

09/27/20 - 10/01/20

$518

/nt

10/04/20 - 10/08/20

$277

/nt

10/04/20 - 10/08/20

$518

/nt

10/11/20 - 10/15/20

$277

/nt

10/11/20 - 10/15/20

$518

/nt

10/18/20 - 10/22/20

$277

/nt

10/18/20 - 10/22/20

$518

/nt

10/25/20 - 10/29/20

$277

/nt

10/25/20 - 10/29/20

$518

/nt

11/01/20 - 11/05/20

$277

/nt

11/01/20 - 11/05/20

$518

/nt

11/08/20 - 11/12/20

$277

/nt

11/08/20 - 11/12/20

$518

/nt

11/15/20 - 11/19/20

$277

/nt

11/15/20 - 11/19/20

$518

/nt

04/18/19 - 04/19/22

$615

/nt

04/18/19 - 04/19/22

$277

/nt

04/18/19 - 04/19/22

$1,939

/wk

04/18/19 - 04/19/22

$5,664

/wk

04/18/19 - 04/19/22

$13,259

/month

04/18/19 - 04/19/22

$8,323

/month