Percy's Flat - Brand New Remodeled Flat in Rosemary Beach
Unit Code: RB-PERCF
Leave a Review
[2]
Great Place to stay - but the Hurricane made us anxious
Reviewed on 2020-10-15 by Samuel H. from Baton Rouge, LA United States
Updated on 2020-10-15
Cleanliness
Location
Property condition
30A was very courteous, however, I also want to point-out something for 30A and the owner's future consideration regarding policy and circumstances. Although this was our first time booking at Rosemary, we do frequent the area. So we are repeat vacationers But I believe it is farsighted not to consider this hurricane situation, the existing gap opening at the same unit during a low season and the unlikeliness to have someone book in that small of an opening at that time. As such, we probably will not book with 30A and try another agency that may be a bit more compassionate, far-sighted, and accommodating. I say this with no malice, but I do have some faith that there are other agencies and owners that still see things in the same way as I and in this manner.
Home From Home
Reviewed on 2020-10-01 by Fiona G. from Houston, TX United States
Updated on 2020-10-01
Services from rental manager
Cleanliness
Location
Property condition
I am SUPER picky! And we loved Percy's flat. It was a last minute decision to go as our trip to Hawaii got cancelled and we loved every minute. You could hear the road noise a little which I wasn't expecting and I'm really sensitive to that but I got used to it and didn't notice it after the first day. The condo is immaculate. Would highly recomend.
Great place
Reviewed on 2020-10-01 by Jeffrey M. from Knoxville, TN US
Updated on 2020-10-01
Services from rental manager
Cleanliness
Location
Property condition
Place was amazing. Would stay here again.
Perfect condition! Great service.
Reviewed on 2020-07-28 by Amy B. from Saint louis, MO United States
Updated on 2020-07-28
Services from rental manager
Cleanliness
Location
Property condition
This listing is directly across from the green on a middle floor of the building. Kids spent lots of time playing frisbee or throwing balls on the green. The property itself is in perfect condition, the pictures posted are 100% representative. The building is tucked to the back of Rosemary, which we liked. Very easy bike or walk to the square or Main Street. We heard some noise from upstairs but it didn't bother us. The electronics were great, sleep machine in master was a nice touch. The bunks in guest are small'ish, don't expect to fit teens! We made a bed in the front room on the couch and even that was very comfortable. The property manager responded to many of our requests, even a new blender for one we couldn't get to work. Only minor (very minor) downfall, if you plan to cook, it is an electric stovetop and it took a long time to cook anything.
Great Place!
Reviewed on 2020-07-16 by from Jacksonville, FL United States
Updated on 2020-07-16
Services from rental manager
Cleanliness
Location
Property condition
What a great setup! Percy's Flat is clean, spacious and very comfortable.
27-D St. Augustine St.
32461
Rosemary Beach
,
FL
United States
30° 16' 58.602" N, 86° 0' 53.28" W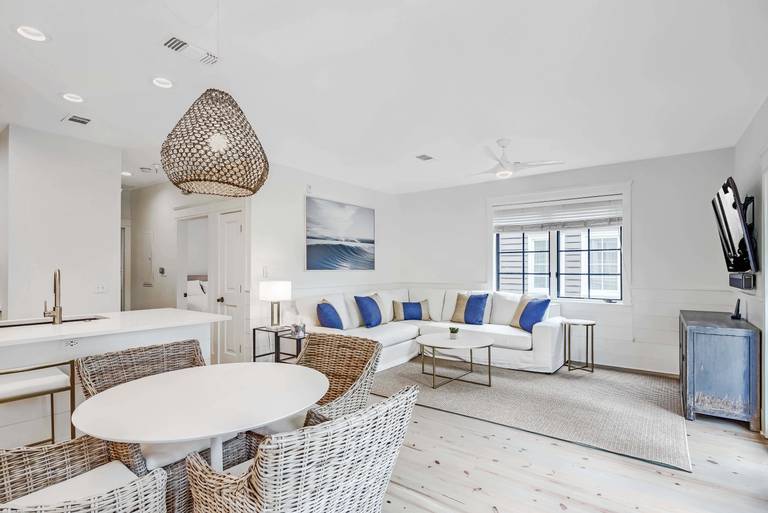 [4]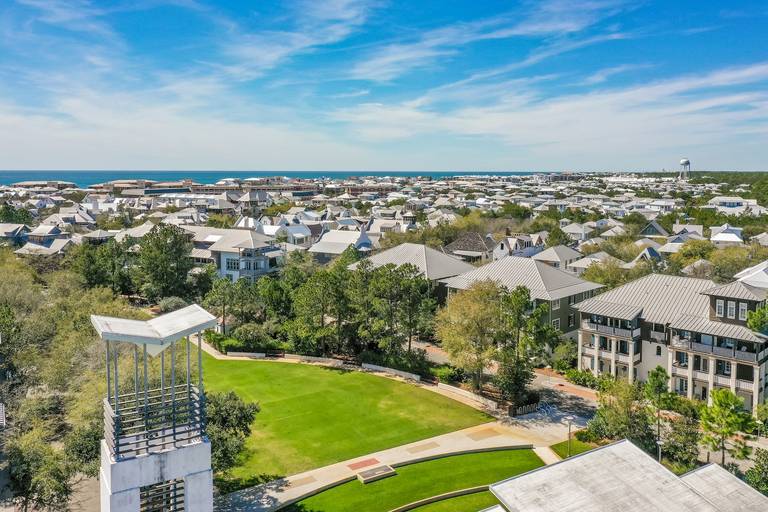 [5]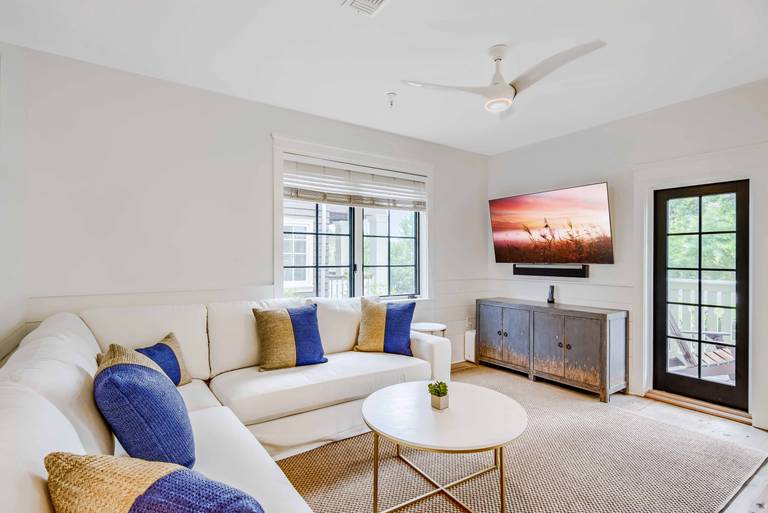 [6]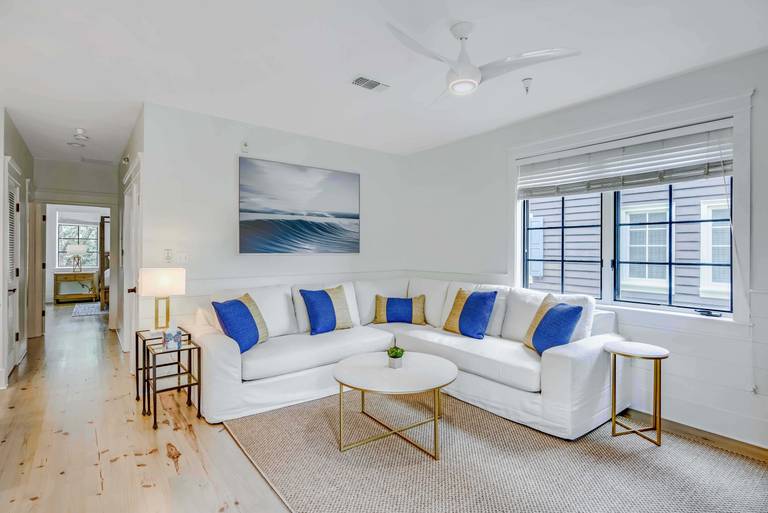 [7]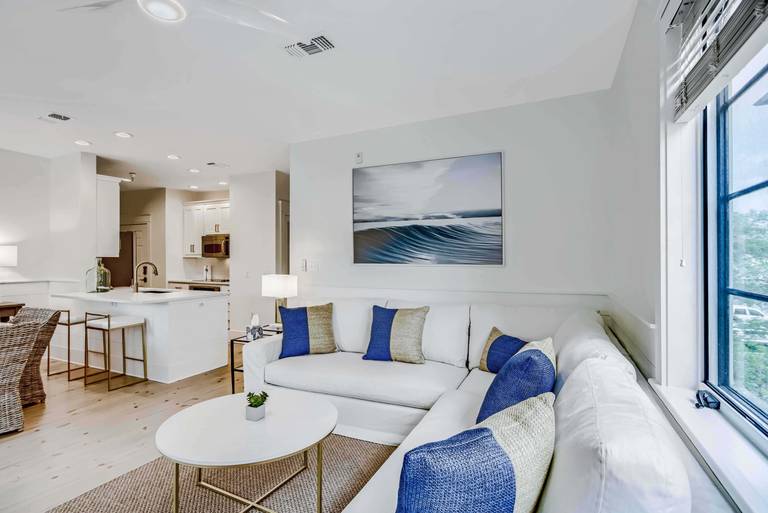 [8]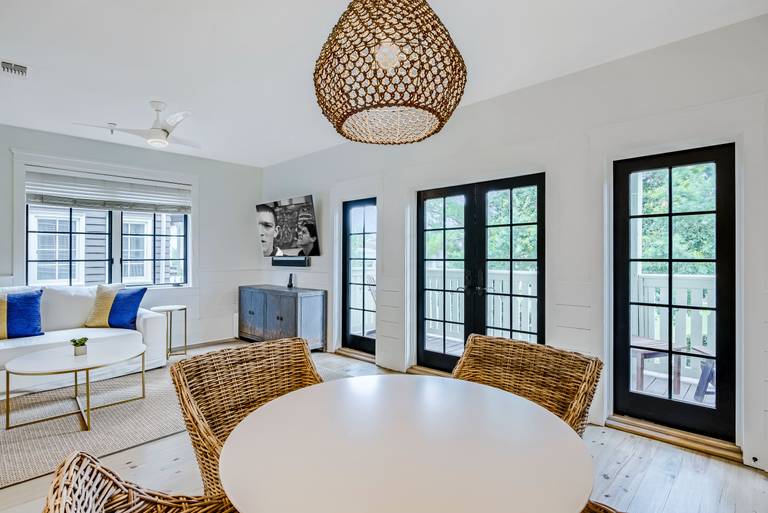 [9]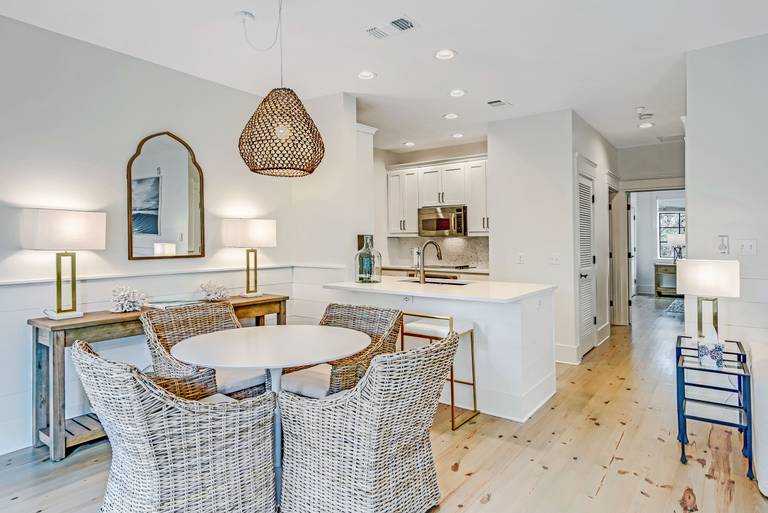 [10]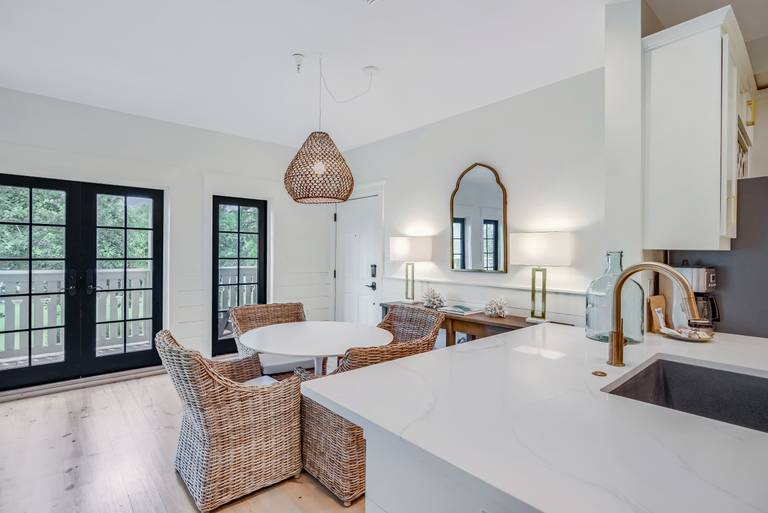 [11]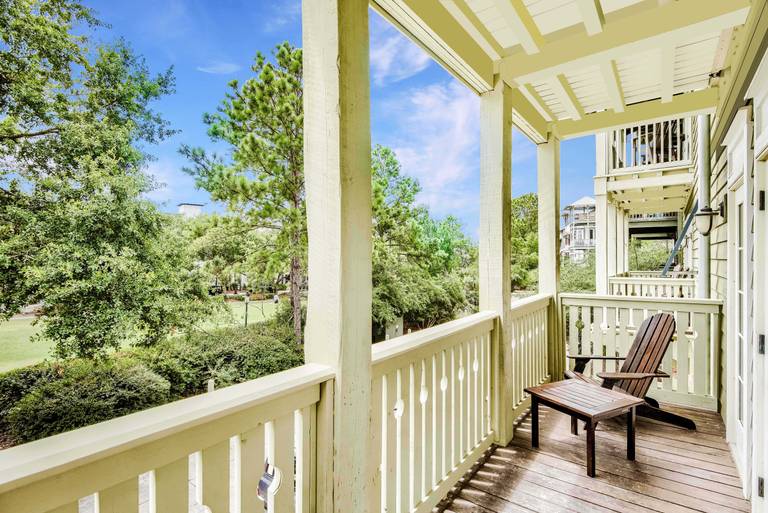 [12]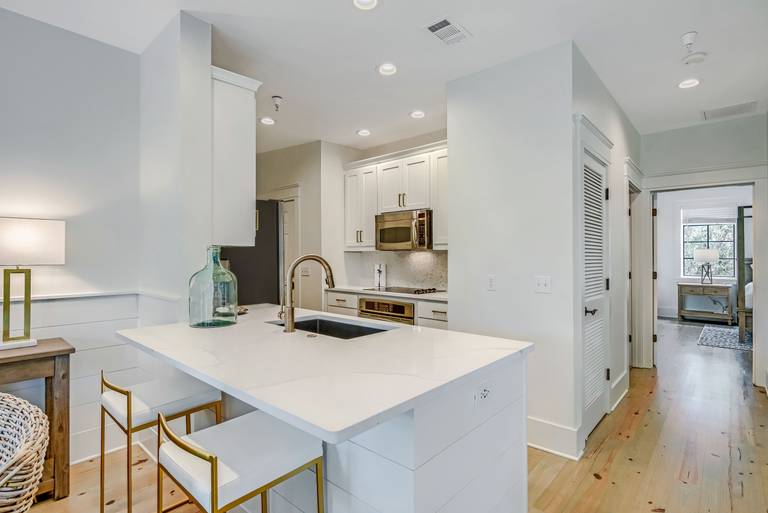 [13]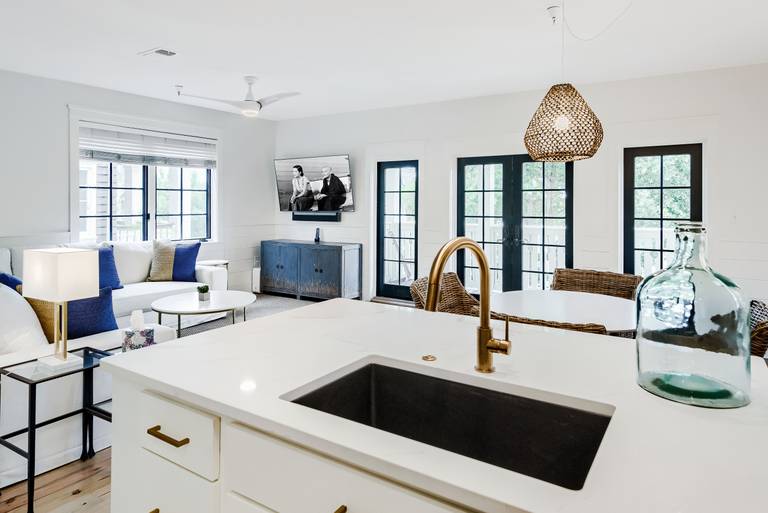 [14]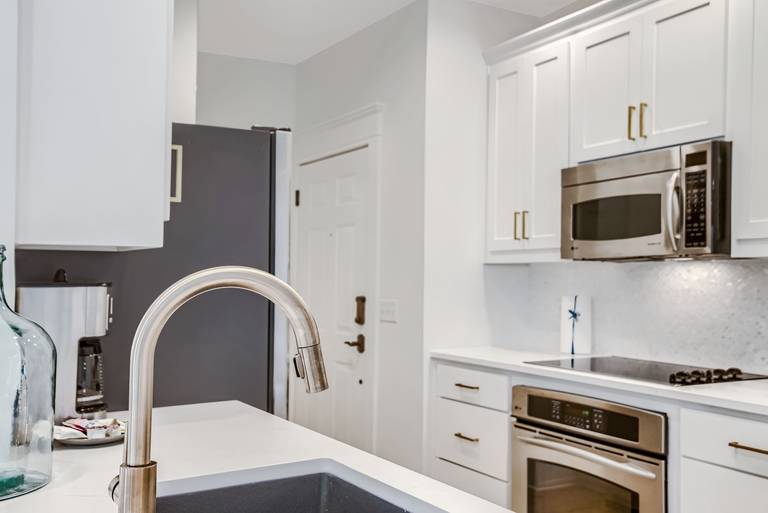 [15]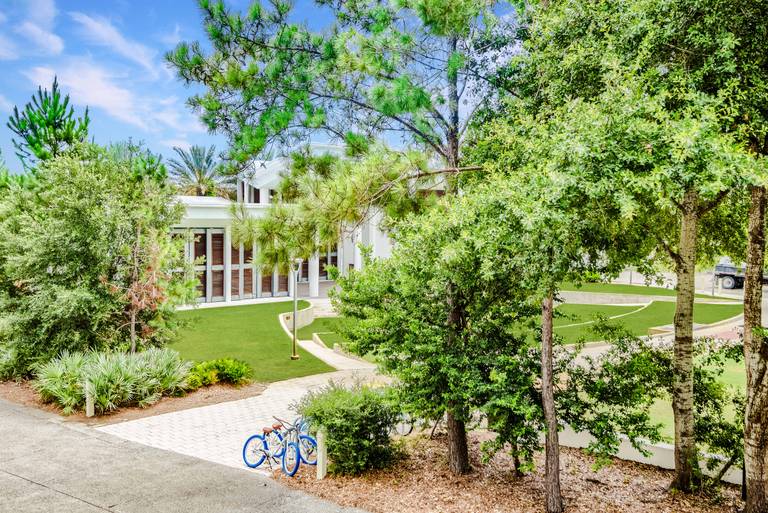 [16]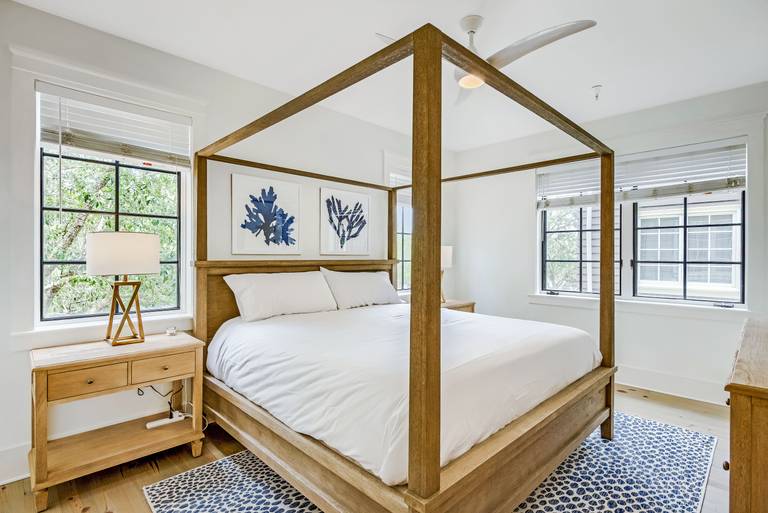 [17]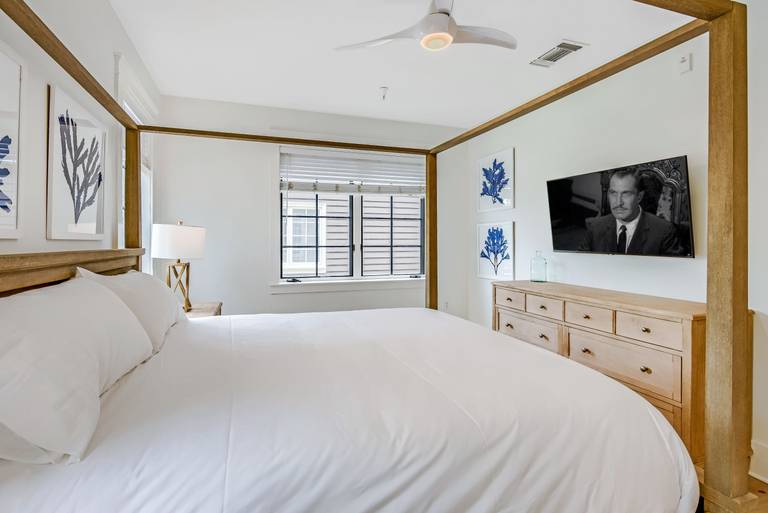 [18]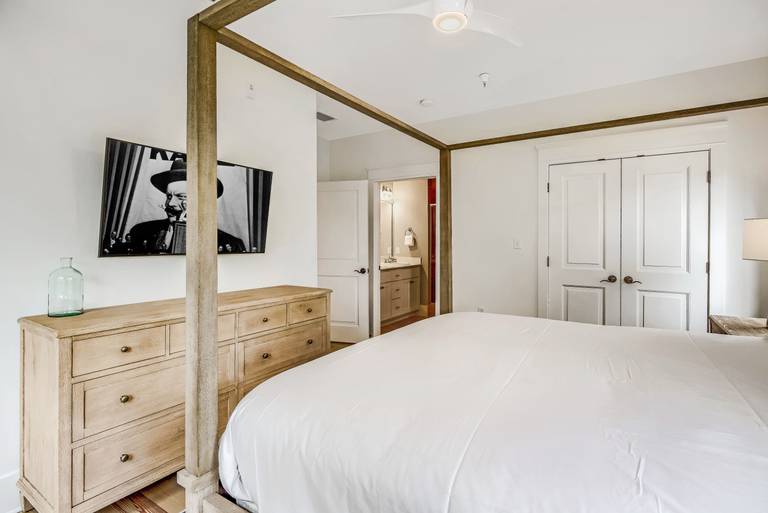 [19]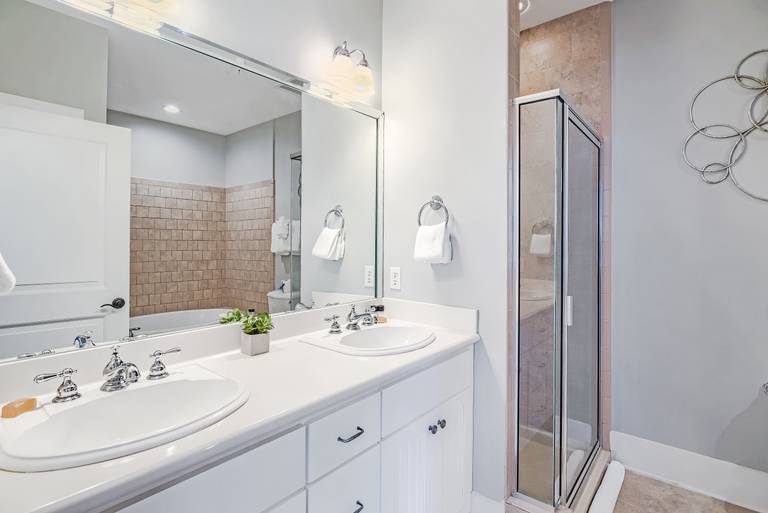 [20]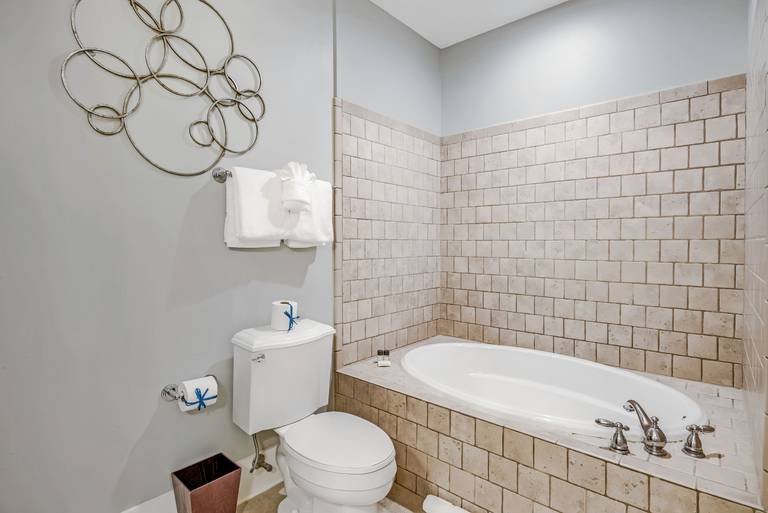 [21]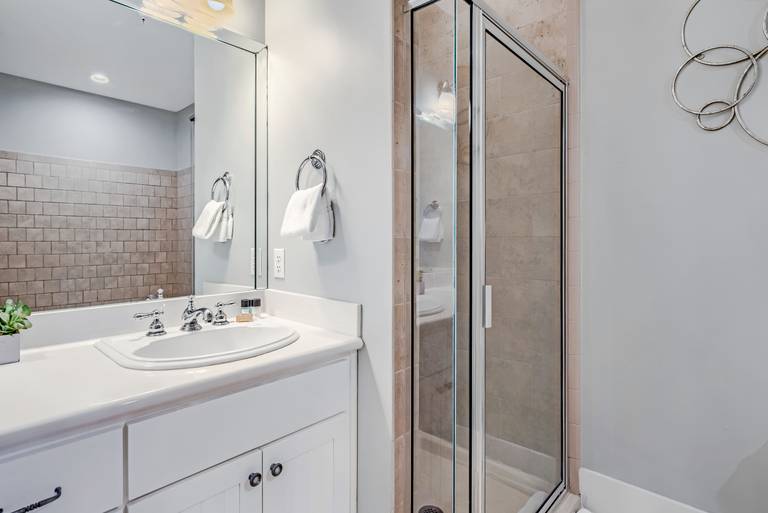 [22]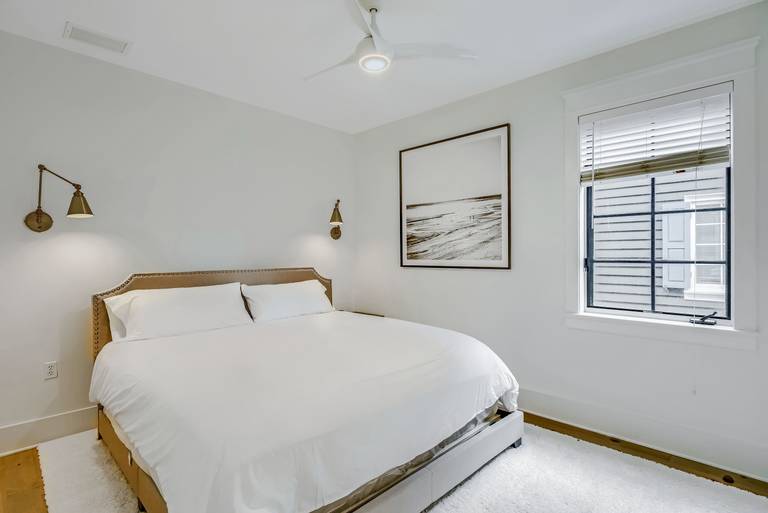 [23]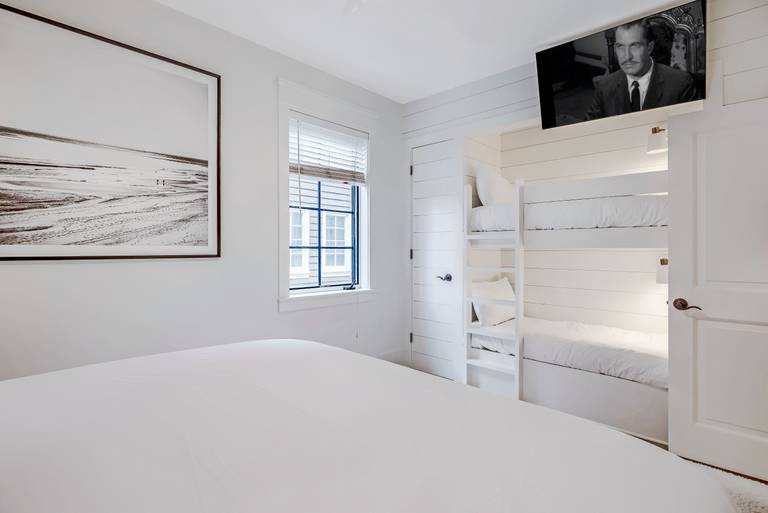 [24]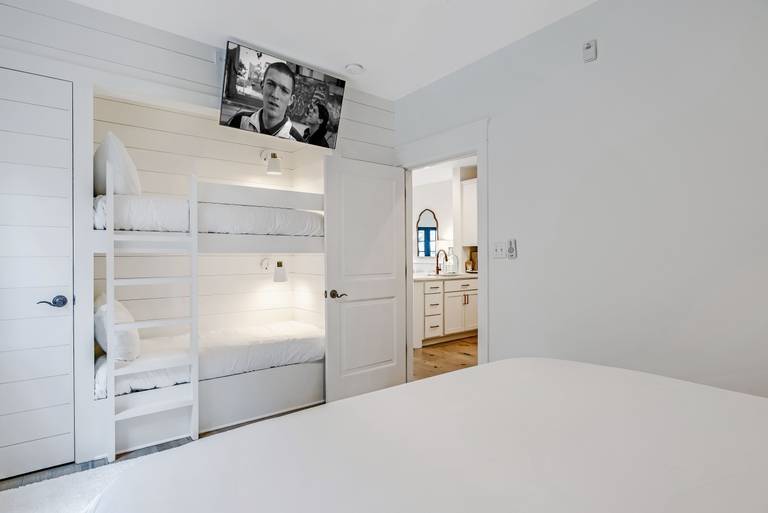 [25]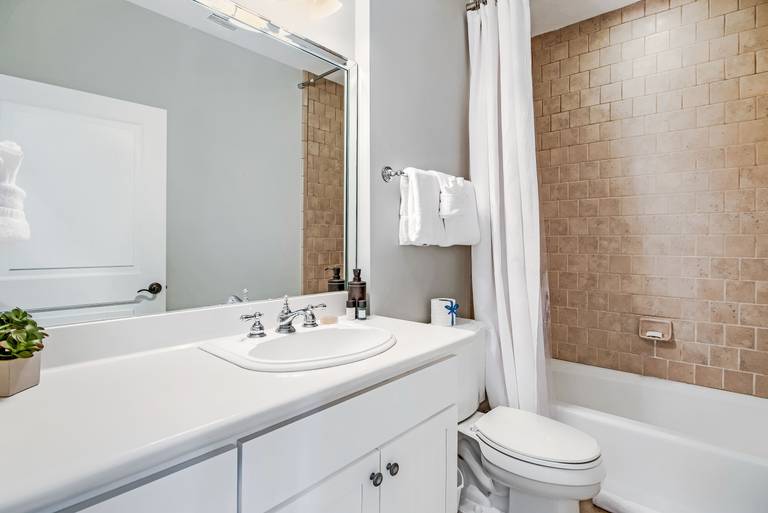 [26]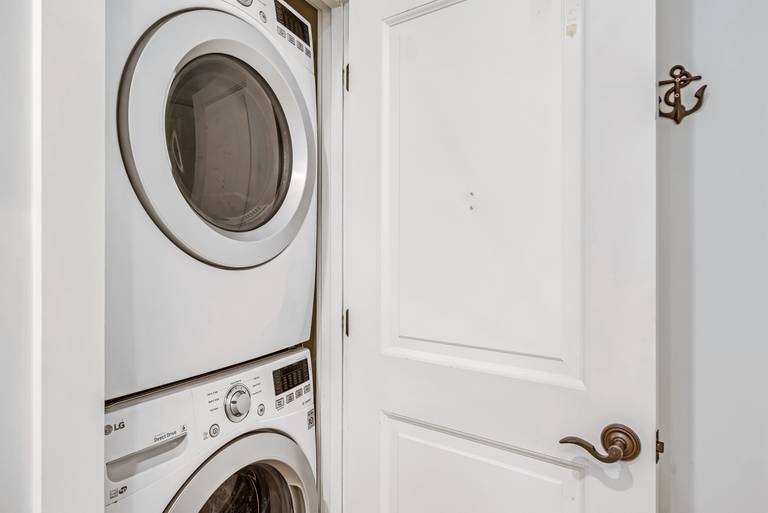 [27]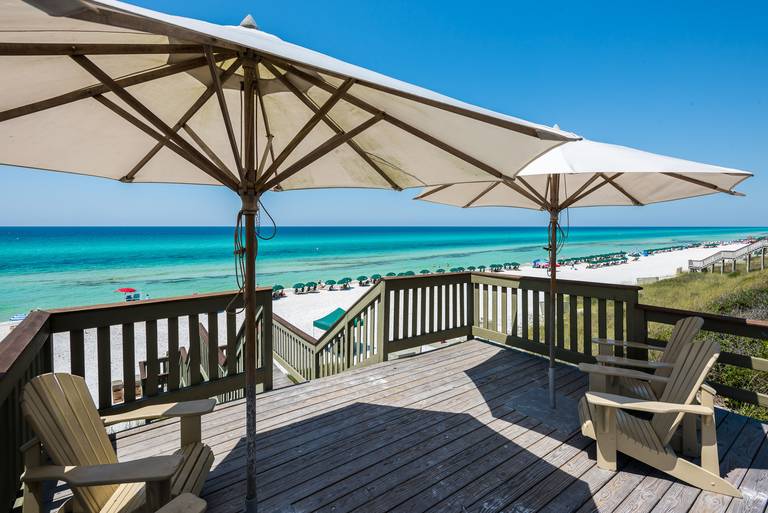 [28]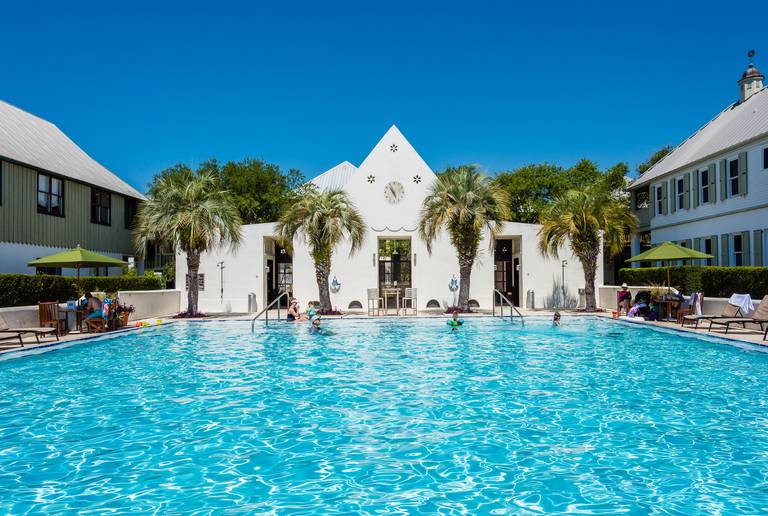 [29]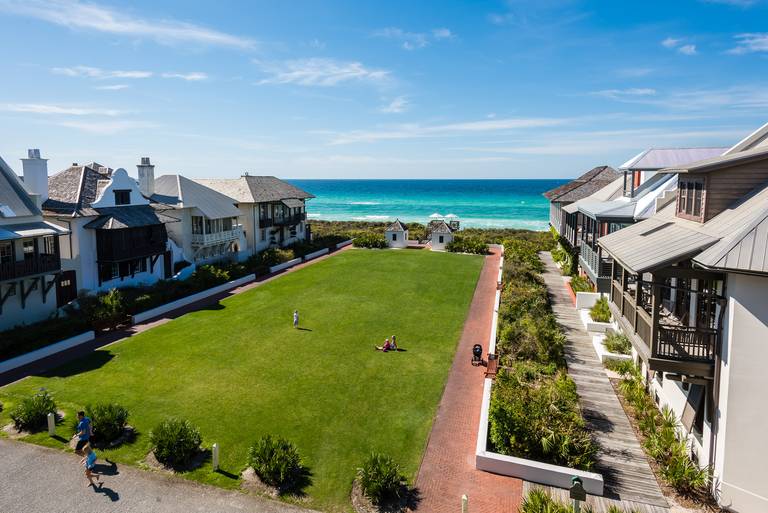 [30]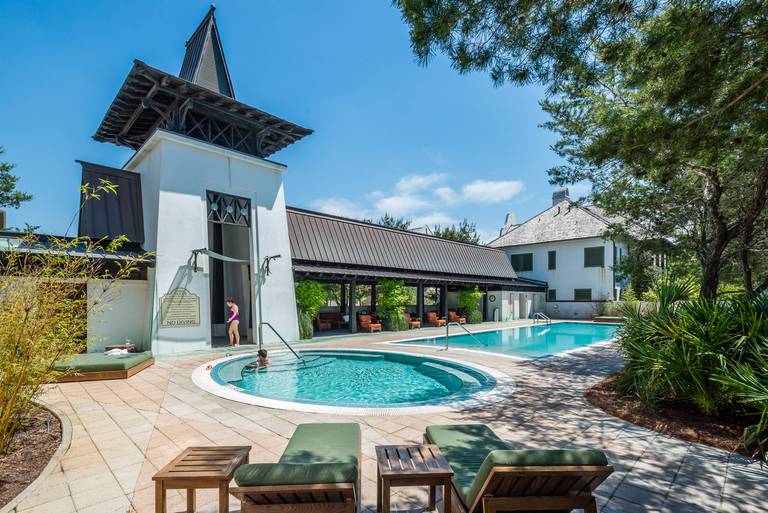 [31]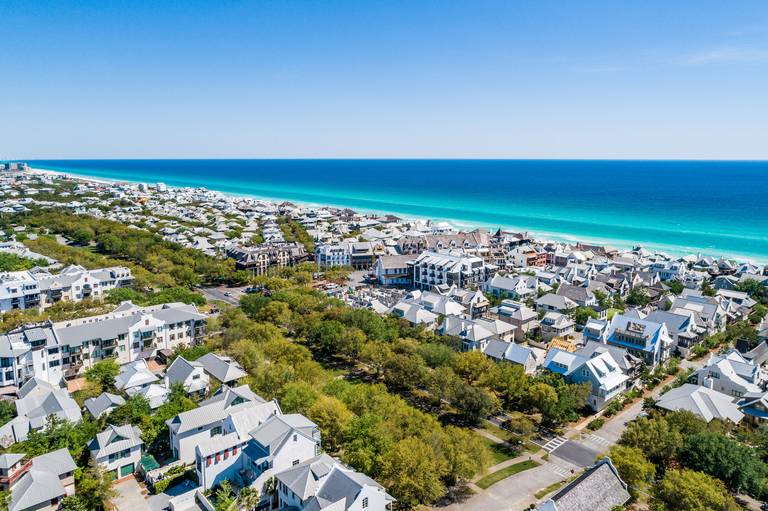 [32]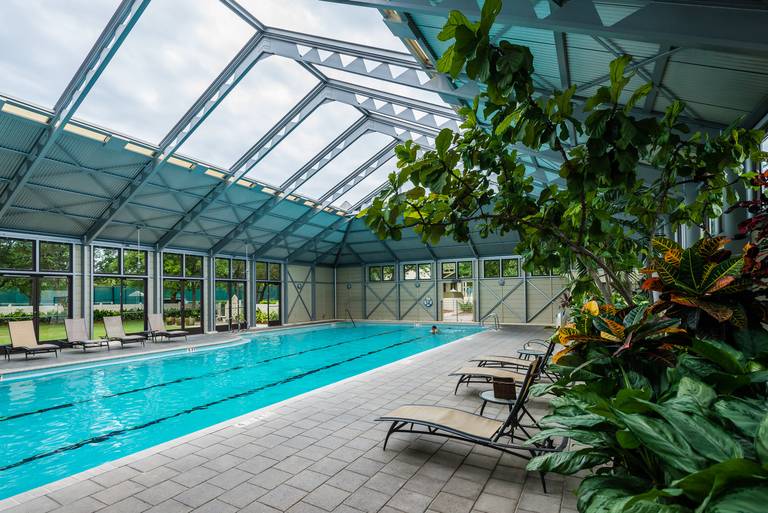 [33]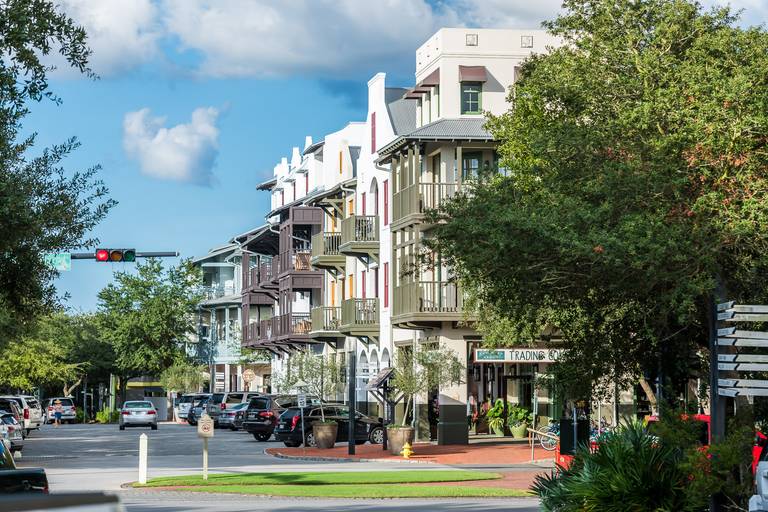 [34]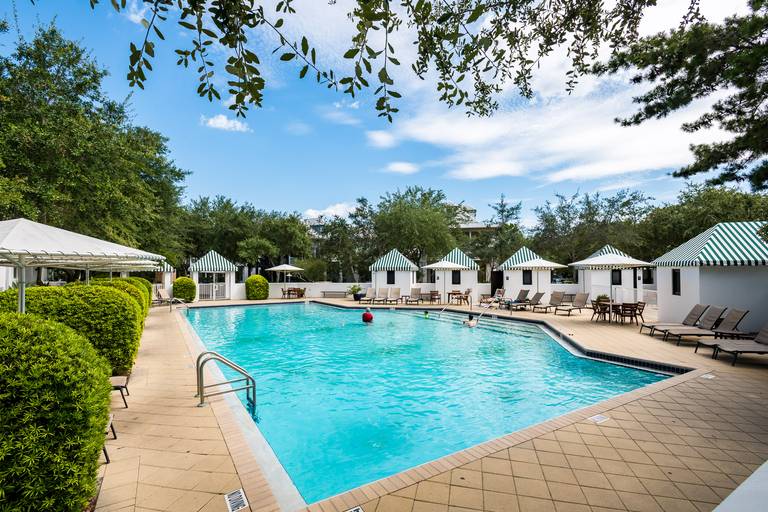 [35]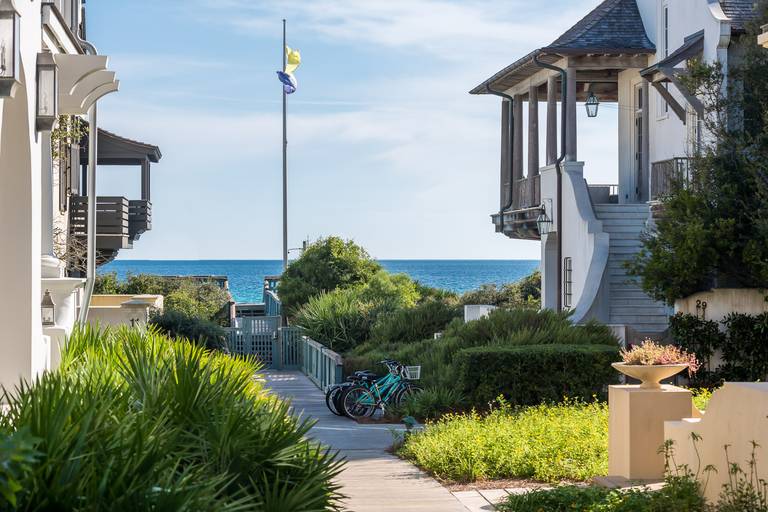 [36]
2 Bedrooms
2 Baths
Completely reimagined, and thoroughly updated, Percy's Flat is the envy of Rosemary Beach. The simple elegance of the living space will draw you in. With a flowing great room, your family will love the abundant light, natural fabrics, and colorful touches of sand and sea.
Perfect for the technophiles in the family, Percy's Flat boasts a Samsung 4K QLED TV, Sonos soundbar and sub, a Harmony Elite remote, and Apple TV. Enjoy all of your entertainment with top of the line brands and equipment.
Percy's Flat's one-level living lends itself well to enhanced safety for all family members. Whether you've got little ones toddling around or anyone with mobility issues, everyone can feel secure in this welcoming environment.
A living area with a sectional sofa beckons you to relax and enjoy your favorite show on the 4K QLED TV. The kitchen boasts white cabinetry and stainless steel appliances for the family chef. A peninsula bar offers seating for two. A dining table for four ensures the whole group can dine together.
Step outside onto your private balcony and enjoy the beautiful views of the St. Augustine Green.
The cozy master bedroom is a true sanctuary with a four-poster king-size bed. Dual nightstands and lamps make for easy reading before bed, while the flat-screen TV allows you to watch your favorite shows in privacy. A double dresser offers plenty of storage, while the ceiling fan keeps things cool and comfortable. The master bath offers dual vanities, walk-in shower, and large soaking tub.
The guest room is the perfect family suite. It has a king-size bed and built-in twin bunks, with a flat-screen TV. The guest bath has a tub/shower.
We look forward to welcoming you to Rosemary Beach and Percy's Flat! Give us a call to book it today before it's full!
PROPERTY HIGHLIGHTS
* 2 Complimentary Beach Cruiser Bikes
* 8-Minute Walk to the Beach (much less on bike)
* Samsung 4K QLED TV
* Sonos Soundbar & Sub
* Harmony Elite Remote
* Apple TV
* Ample Parking in Lot Behind Building
FIRST FLOOR
* Living Room with Large Sectional Sofa, Two Side Chairs, Coffee Table, 2 End Tables, 4K QLED TV
* Kitchen with Stainless Steel Appliances, Quartz Counters, Tile Backsplash
* Peninsula Bar with Seating for 2
* Dining Room with Table for 4
* Outdoor Balcony overlooking St. Augustine Green, Perfect space for Outdoor Fun
* MASTER BEDROOM with King Bed, Two Nightstands with Lamps, Ceiling Fan, Double Dresser, TV
* MASTER BATH with Dual Vanities, Oversized Walk-In Shower, Separate Tub
* GUEST BEDROOM with King bed, Dual Lamps, Ceiling Fan, TV & Built-in Bunk Bed (2 Twins)
* GUEST BATH with Tub/Shower
ROSEMARY BEACH COMMUNITY HIGHLIGHTS
* 4 Private Community Pools
* Common Green Areas
* West Indies Inspired Architecture
* Beach Promenade
* Walkway Throughout Community
* Designed as Walking/Biking Community
**Brand new remodel and new to the rental program, hence no reviews.***
Available Sunday to Sunday during peak seasons.
Dates
Price
01/24/21 - 01/28/21

$231

/nt

01/24/21 - 01/28/21

$689

/nt

01/31/21 - 02/04/21

$689

/nt

01/31/21 - 02/04/21

$231

/nt

02/07/21 - 02/11/21

$689

/nt

02/07/21 - 02/11/21

$231

/nt

02/14/21 - 02/18/21

$231

/nt

02/14/21 - 02/18/21

$689

/nt

02/21/21 - 02/25/21

$689

/nt

02/21/21 - 02/25/21

$231

/nt

02/28/21 - 03/04/21

$689

/nt

02/28/21 - 03/04/21

$231

/nt

03/07/21 - 03/11/21

$231

/nt

03/07/21 - 03/11/21

$689

/nt

03/14/21 - 03/18/21

$689

/nt

03/14/21 - 03/18/21

$231

/nt

03/21/21 - 03/25/21

$231

/nt

03/21/21 - 03/25/21

$689

/nt

03/28/21 - 04/01/21

$231

/nt

03/28/21 - 04/01/21

$689

/nt

04/04/21 - 04/08/21

$689

/nt

04/04/21 - 04/08/21

$231

/nt

04/11/21 - 04/15/21

$231

/nt

04/11/21 - 04/15/21

$689

/nt

04/18/21 - 04/22/21

$689

/nt

04/18/21 - 04/22/21

$231

/nt

04/25/21 - 04/29/21

$231

/nt

04/25/21 - 04/29/21

$689

/nt

05/02/21 - 05/06/21

$689

/nt

05/02/21 - 05/06/21

$231

/nt

05/09/21 - 05/13/21

$231

/nt

05/09/21 - 05/13/21

$689

/nt

05/16/21 - 05/20/21

$231

/nt

05/16/21 - 05/20/21

$689

/nt

05/23/21 - 05/27/21

$231

/nt

05/23/21 - 05/27/21

$689

/nt

05/30/21 - 06/03/21

$689

/nt

05/30/21 - 06/03/21

$231

/nt

06/06/21 - 06/10/21

$231

/nt

06/06/21 - 06/10/21

$689

/nt

06/13/21 - 06/17/21

$689

/nt

06/13/21 - 06/17/21

$231

/nt

06/20/21 - 06/24/21

$231

/nt

06/20/21 - 06/24/21

$689

/nt

06/27/21 - 07/01/21

$689

/nt

06/27/21 - 07/01/21

$231

/nt

07/04/21 - 07/08/21

$231

/nt

07/04/21 - 07/08/21

$689

/nt

07/11/21 - 07/15/21

$689

/nt

07/11/21 - 07/15/21

$231

/nt

07/18/21 - 07/22/21

$689

/nt

07/18/21 - 07/22/21

$231

/nt

07/25/21 - 07/29/21

$689

/nt

07/25/21 - 07/29/21

$231

/nt

08/01/21 - 08/05/21

$231

/nt

08/01/21 - 08/05/21

$689

/nt

08/08/21 - 08/12/21

$231

/nt

08/08/21 - 08/12/21

$689

/nt

08/15/21 - 08/19/21

$231

/nt

08/15/21 - 08/19/21

$689

/nt

08/22/21 - 08/26/21

$231

/nt

08/22/21 - 08/26/21

$689

/nt

08/29/21 - 09/02/21

$689

/nt

08/29/21 - 09/02/21

$231

/nt

09/05/21 - 09/09/21

$689

/nt

09/05/21 - 09/09/21

$231

/nt

09/12/21 - 09/16/21

$689

/nt

09/12/21 - 09/16/21

$231

/nt

09/19/21 - 09/23/21

$231

/nt

09/19/21 - 09/23/21

$689

/nt

09/26/21 - 09/30/21

$689

/nt

09/26/21 - 09/30/21

$231

/nt

10/03/21 - 10/07/21

$231

/nt

10/03/21 - 10/07/21

$689

/nt

10/10/21 - 10/14/21

$689

/nt

10/10/21 - 10/14/21

$231

/nt

10/17/21 - 10/21/21

$689

/nt

10/17/21 - 10/21/21

$231

/nt

10/24/21 - 10/28/21

$689

/nt

10/24/21 - 10/28/21

$231

/nt

10/31/21 - 11/04/21

$689

/nt

10/31/21 - 11/04/21

$231

/nt

11/07/21 - 11/11/21

$231

/nt

11/07/21 - 11/11/21

$689

/nt

11/14/21 - 11/18/21

$689

/nt

11/14/21 - 11/18/21

$231

/nt

11/21/21 - 11/25/21

$689

/nt

11/21/21 - 11/25/21

$231

/nt

11/28/21 - 12/02/21

$231

/nt

11/28/21 - 12/02/21

$689

/nt

12/05/21 - 12/09/21

$231

/nt

12/05/21 - 12/09/21

$689

/nt

12/12/21 - 12/16/21

$689

/nt

12/12/21 - 12/16/21

$231

/nt

12/19/21 - 12/23/21

$231

/nt

12/19/21 - 12/23/21

$689

/nt

12/26/21 - 12/30/21

$231

/nt

12/26/21 - 12/30/21

$689

/nt

01/02/22 - 01/06/22

$689

/nt

01/02/22 - 01/06/22

$231

/nt

01/09/22 - 01/13/22

$231

/nt

01/09/22 - 01/13/22

$689

/nt

01/16/22 - 01/20/22

$689

/nt

01/16/22 - 01/20/22

$231

/nt

01/23/22 - 01/27/22

$689

/nt

01/23/22 - 01/27/22

$231

/nt

01/30/22 - 02/03/22

$231

/nt

01/30/22 - 02/03/22

$689

/nt

02/06/22 - 02/10/22

$689

/nt

02/06/22 - 02/10/22

$231

/nt

02/13/22 - 02/17/22

$231

/nt

02/13/22 - 02/17/22

$689

/nt

02/20/22 - 02/24/22

$231

/nt

02/20/22 - 02/24/22

$689

/nt

02/27/22 - 03/03/22

$231

/nt

02/27/22 - 03/03/22

$689

/nt

03/06/22 - 03/10/22

$231

/nt

03/06/22 - 03/10/22

$689

/nt

03/13/22 - 03/17/22

$231

/nt

03/13/22 - 03/17/22

$689

/nt

03/20/22 - 03/24/22

$689

/nt

03/20/22 - 03/24/22

$231

/nt

03/27/22 - 03/31/22

$689

/nt

03/27/22 - 03/31/22

$231

/nt

04/03/22 - 04/07/22

$689

/nt

04/03/22 - 04/07/22

$231

/nt

04/10/22 - 04/14/22

$231

/nt

04/10/22 - 04/14/22

$689

/nt

04/17/22 - 04/19/22

$231

/nt

04/17/22 - 04/19/22

$689

/nt

04/18/19 - 04/19/22

$231

/nt

04/18/19 - 04/19/22

$689

/nt

04/18/19 - 04/19/22

$1,617

/wk

04/18/19 - 04/19/22

$4,816

/wk

04/18/19 - 04/19/22

$6,930

/month

04/18/19 - 04/19/22

$18,731

/month