Unit Code: IN-SALT1
Sorority Anniversary Trip
Reviewed on 2022-03-02 by Andrea D. , Atlanta, GA United States
Overall
Services from rental manager
Cleanliness
Location
Property condition
Our stay was for 5 days and 4 nights. There were 15 of us in the group and the room accommodations were more than adequate. The pictures of the property are a true representation of how the property actually looks. The house was very spacious and beautifully decorated. The pool deck allowed all of us the opportunity to lounge together at one time. The property was perfectly located with beautiful views of the water. It was less than a 5 minute walk to the beach. There are also shops, restaurants and grocery stores within a five minute drive.
We had a few minor issues with the elevator and TV. Management responded very quickly both times. Everyone really enjoyed our stay at this beautiful property.
Manager's Response
Thank you, Andrea! We love hearing about the wonderful time your big group had at Saltaire Retreat. We hope you can all return and stay with us again soon.
Excellent location
Reviewed on 2022-02-04 by Mark , Slickville, PA United States
This house is amazing, it boasts a very well equipped kitchen with plenty of room to hang out with family and friends. The rooms are spacious and have every amenity you could ask for. The beds are comfortable and the place is well maintained and clean. Great location close to the beach. The outside area with pool and spa are great for entertaining with plenty of room for everyone.
Amazing House
Reviewed on 2022-01-31 by Cindy S , Decatur, GA United States
The house was awesome. Clean, spacious and roomy with super comfy beds. Well stocked kitchen...large enough for many "chefs" to work around each other! Three levels, with each having its own den area was a huge bonus. Hot tub was perfect on the cold days and the beach was just around the corner. Could not ask for anything more!
Outstanding home for a vacation!
Reviewed on 2022-01-31 by Elizabeth Gill , Clarkesville, GA USA
My family had the best time at this fabulous home! We LOVED all the spaciousness of the home, the closeness to the beach, the pool and hot tub. It is the perfect spot for a family reunion, which is what we did. Wintertime turned out to be a great time for a visit because there weren't as many tourists and we could get in at the great seafood restaurants very close to the house. The beds were SO comfortable! The kitchen was over the top! We had several meals there with lots of room for everyone. I can't say enough wonderful things about our experience there. 5 stars!
Saltaire retreat
Reviewed on 2022-01-31 by Callie hitt
The house was over the top. The kitchen was extremely well equipped. The beds were super comfortable. There was plenty of room to spread out or hangout together. The pool and hot tub were really nice too. The house was very clean and beautifully decorated. I would definitely go back.
Perfect location, perfect house
Reviewed on 2022-01-31 by Erica , Roswell, GA United States
This house is absolutely perfect. The beds were extremely comfy, the rooms were incredibly spacious and the kitchen had every utensil you could have needed. The house was extremely close to downtown Rosemary, with lots of shopping and food options.
Great location and house
Reviewed on 2021-10-19 by Amy H. , Gainesville, GA United States
Overall
Services from rental manager
Cleanliness
Location
Property condition
This house is designed amazingly with 3 levels of full on living space. The kitchen has everything you could need. The bunk beds were fabulous for ADULTS since 8 of them are Queen! Location is amazing and a short walk to the beach. Disappointed that only 3 of the 6 bikes were actually working. The rental company was very responsive as well.
Manager's Response
Thank you, Amy! We're so pleased that this home worked out so well for you. We apologize that all of the bikes were not working, but we hope you can return and stay with us again soon. We appreciate your constructive feedback.
[2]
Search Availability
Saltaire Retreat - Custom Inlet Beach Home, Sleeps 32, Heated Pool, Bikes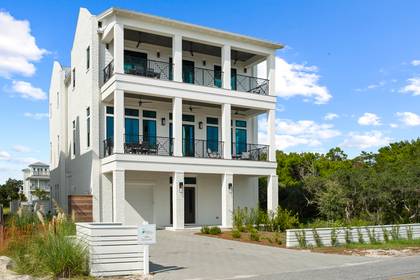 [3]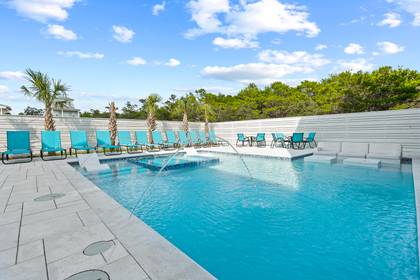 [4]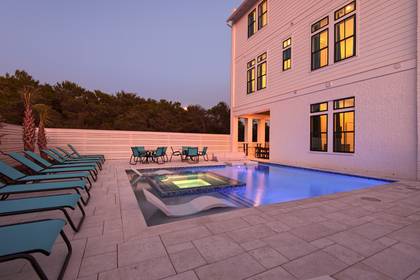 [5]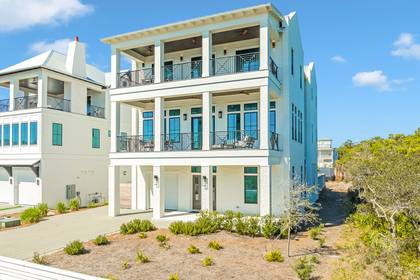 [6]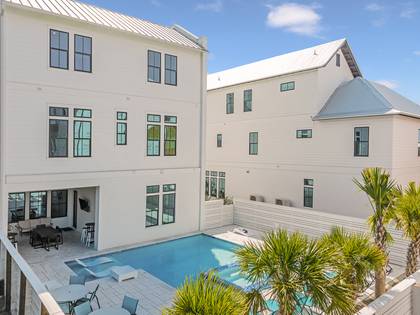 [7]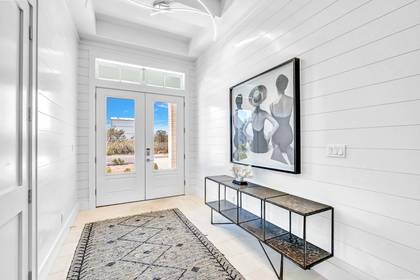 [8]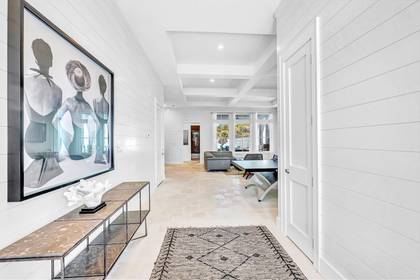 [9]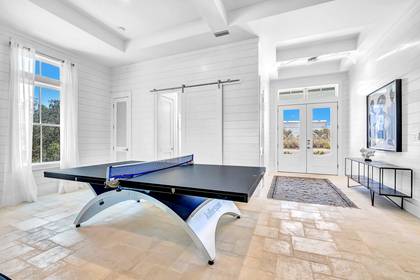 [10]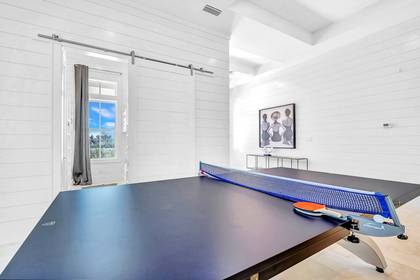 [11]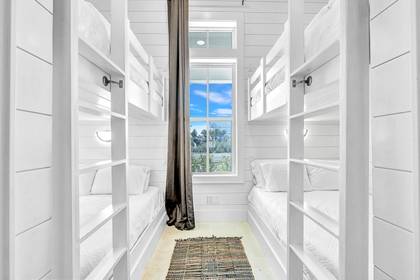 [12]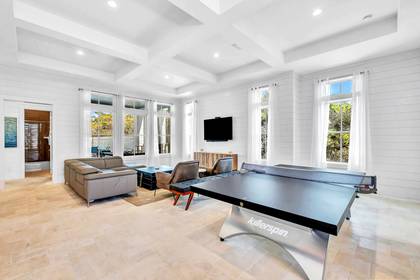 [13]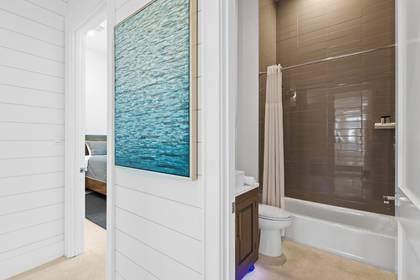 [14]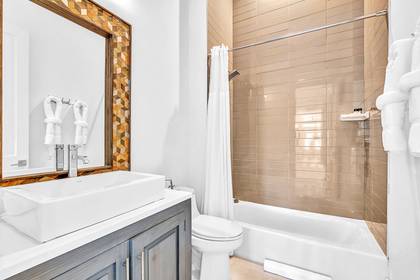 [15]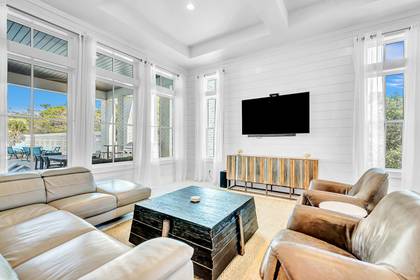 [16]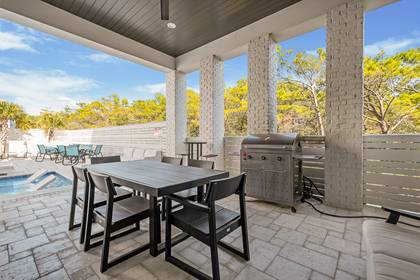 [17]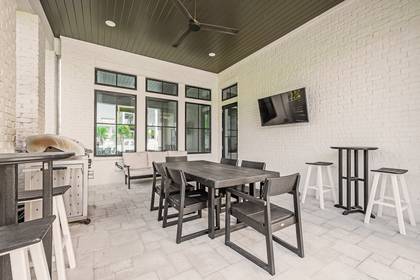 [18]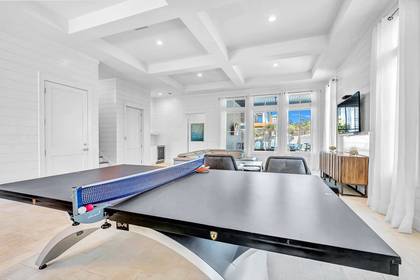 [19]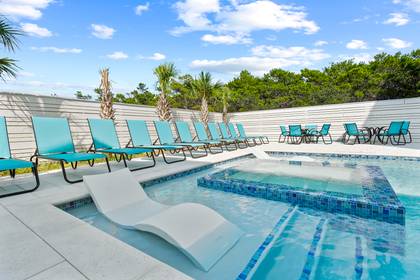 [20]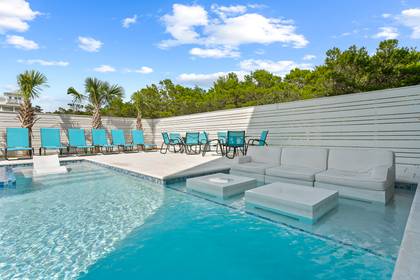 [21]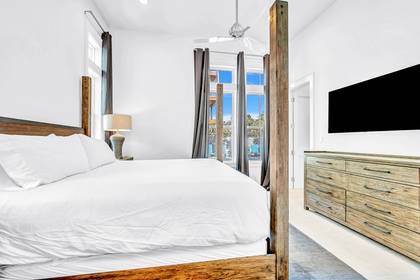 [22]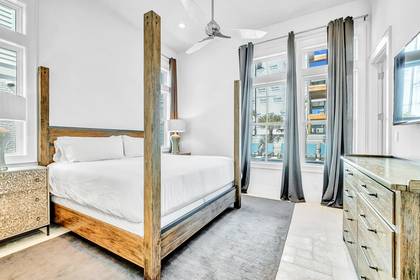 [23]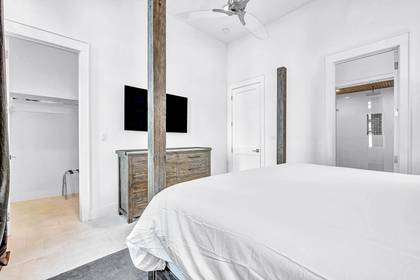 [24]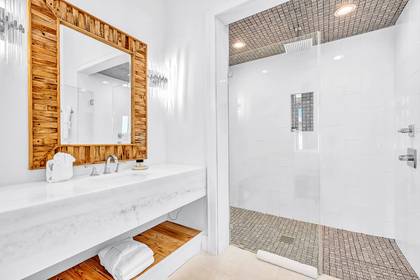 [25]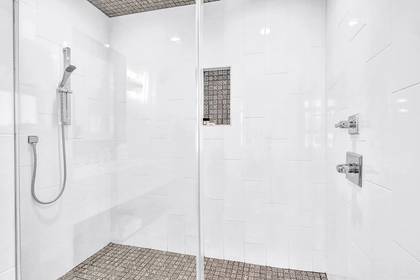 [26]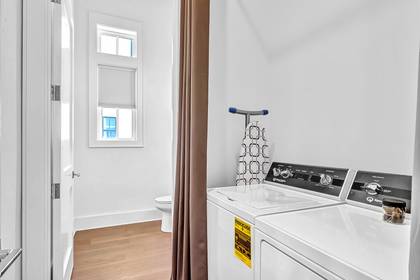 [27]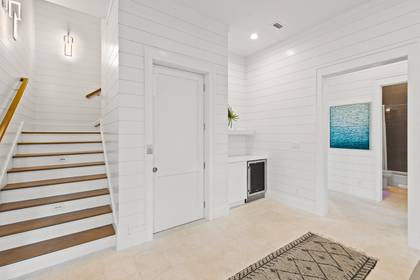 [28]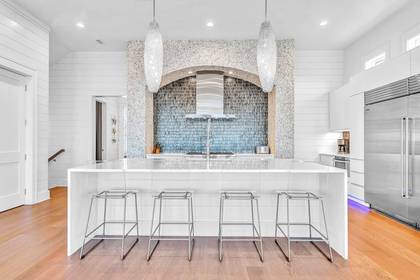 [29]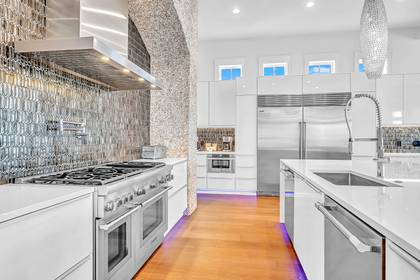 [30]
[31]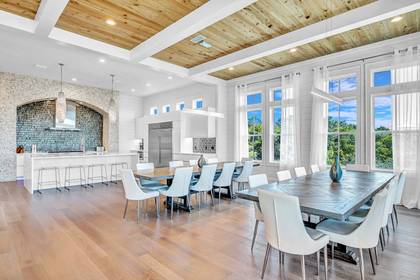 [32]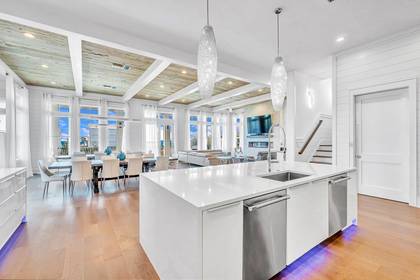 [33]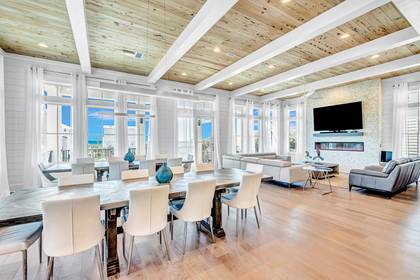 [34]
[35]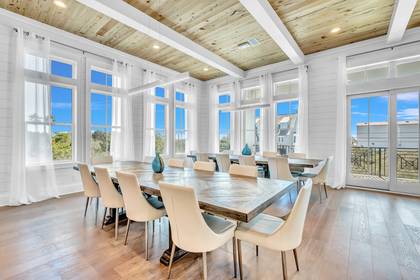 [36]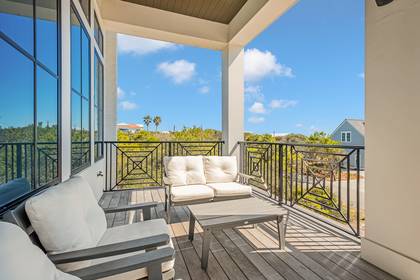 [37]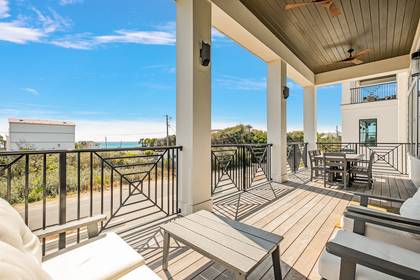 [38]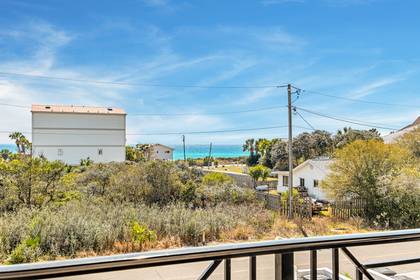 [39]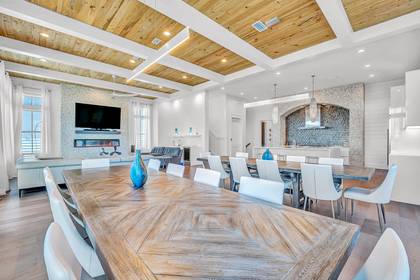 [40]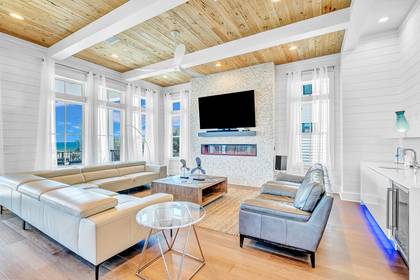 [41]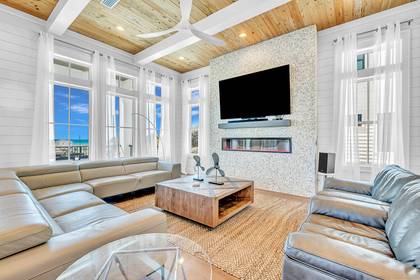 [42]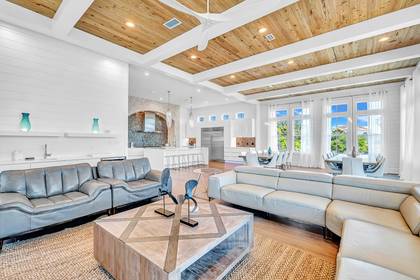 [43]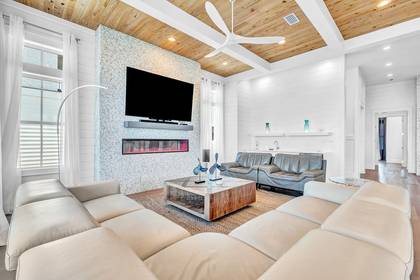 [44]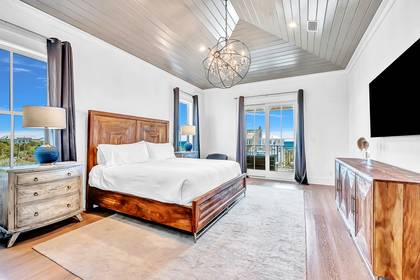 [45]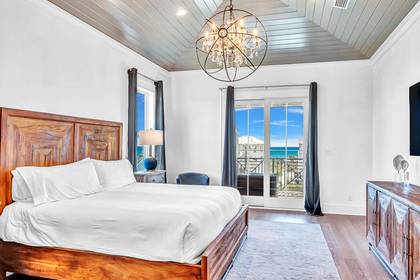 [46]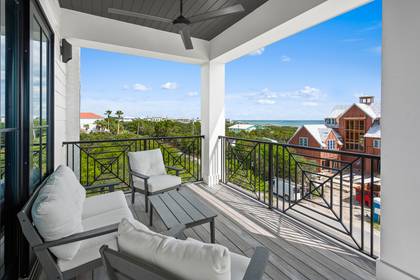 [47]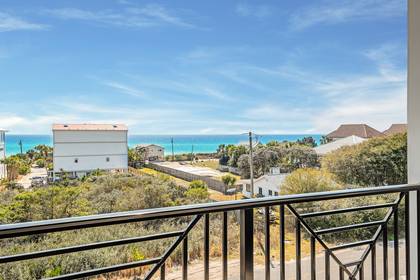 [48]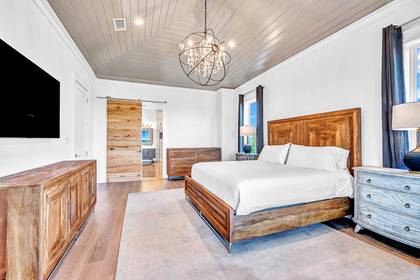 [49]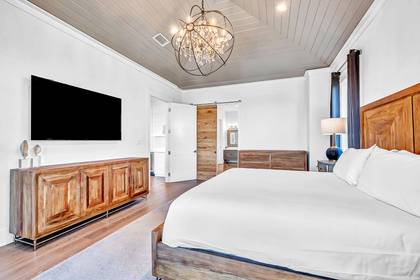 [50]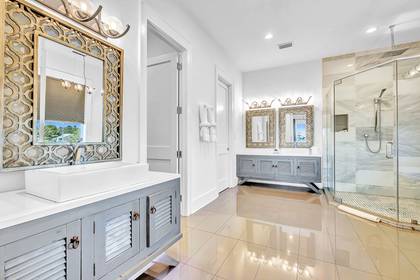 [51]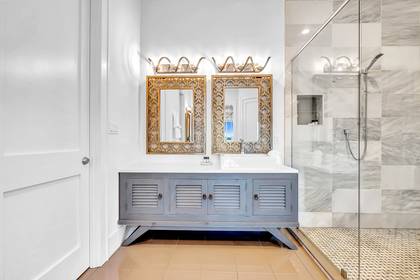 [52]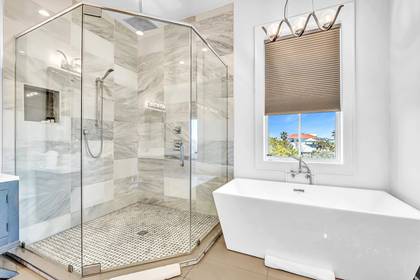 [53]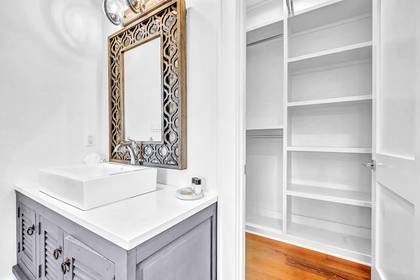 [54]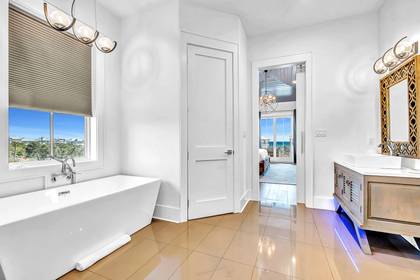 [55]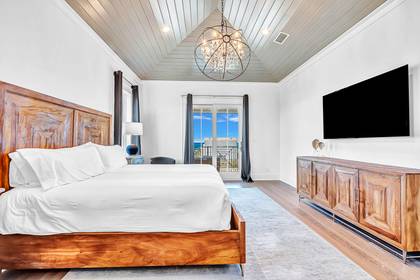 [56]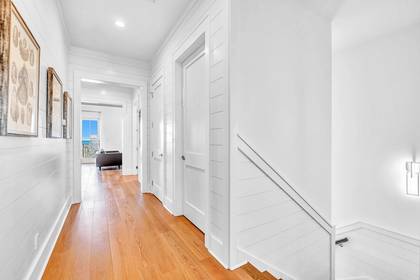 [57]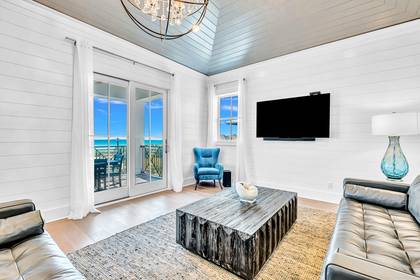 [58]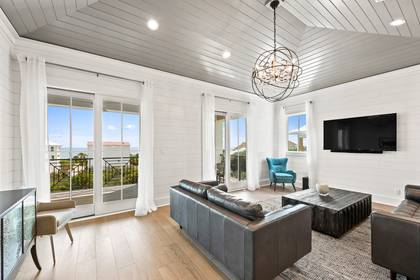 [59]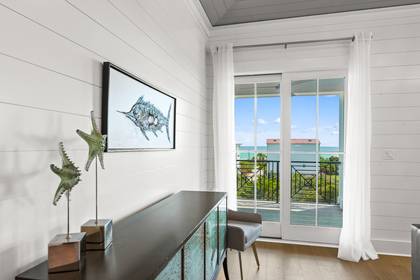 [60]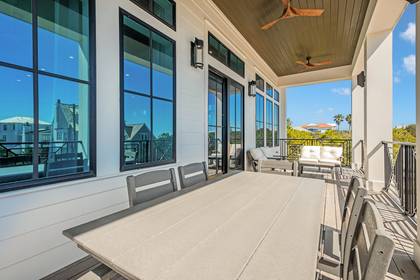 [61]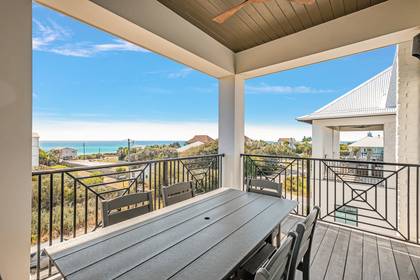 [62]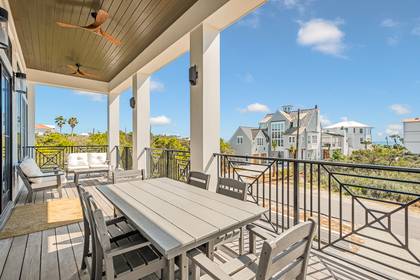 [63]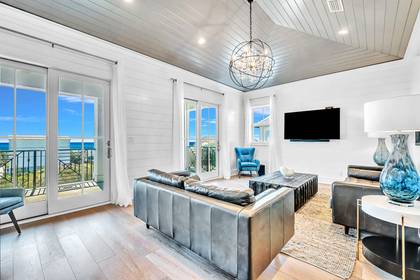 [64]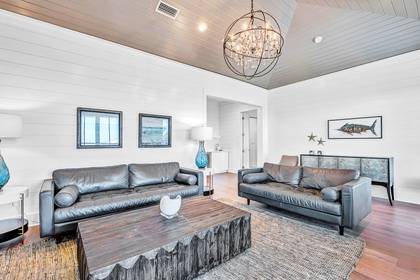 [65]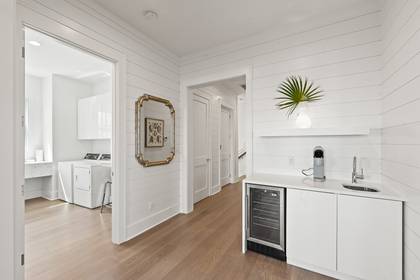 [66]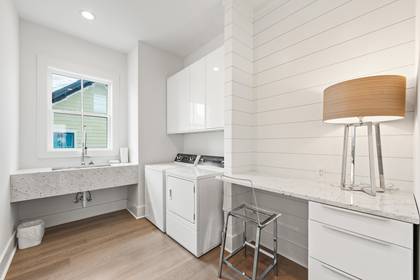 [67]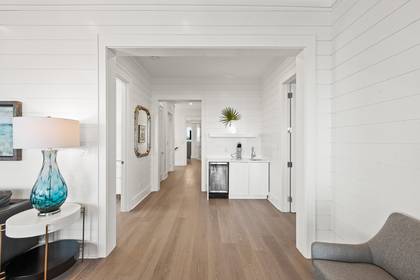 [68]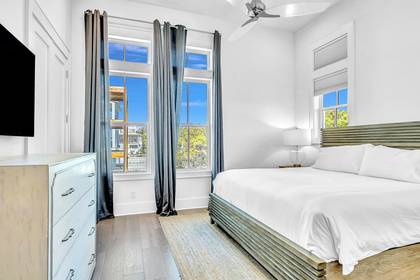 [69]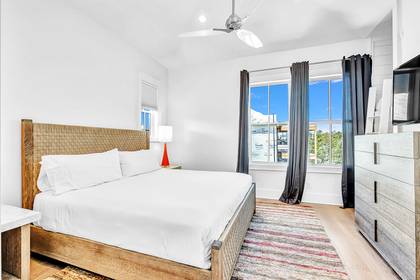 [70]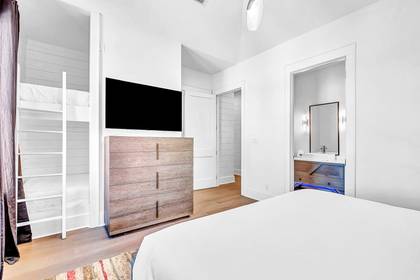 [71]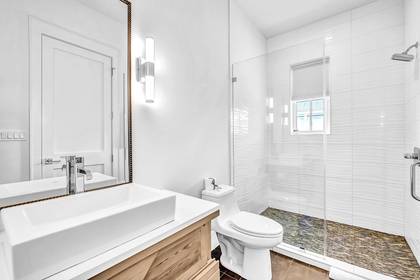 [72]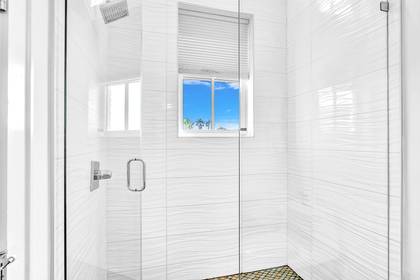 [73]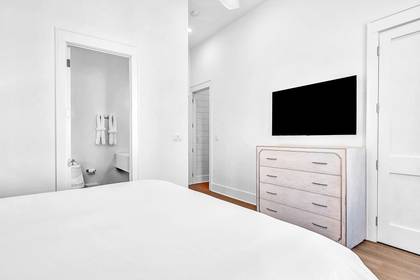 [74]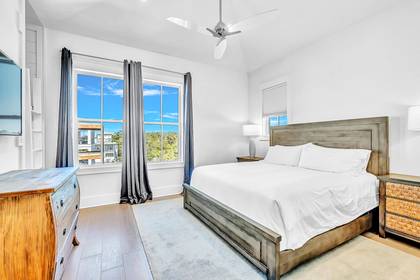 [75]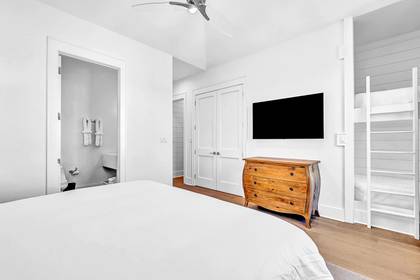 [76]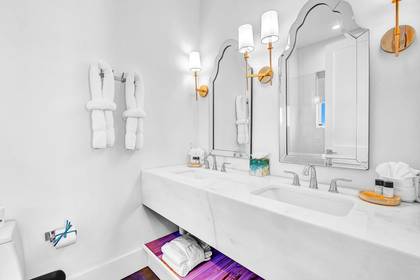 [77]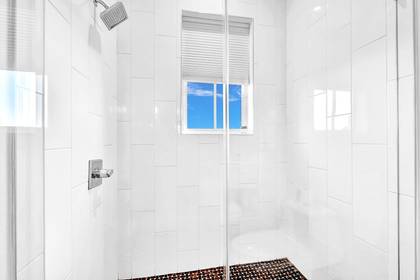 [78]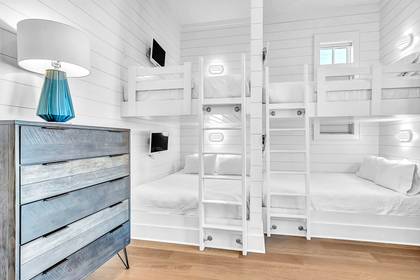 [79]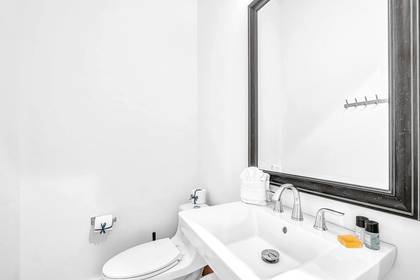 [80]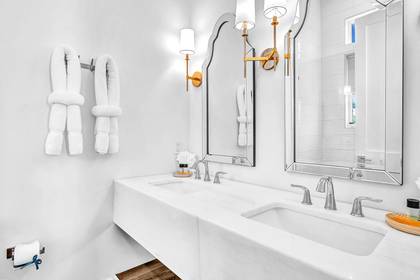 [81]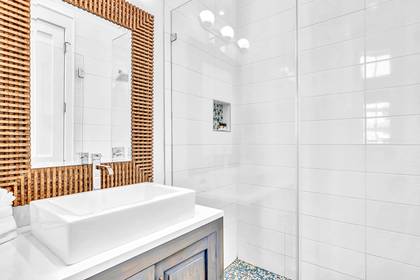 [82]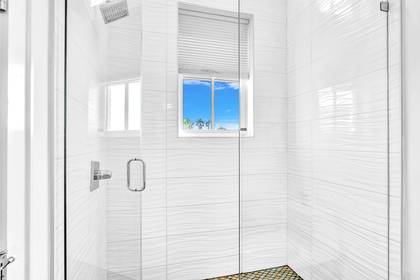 [83]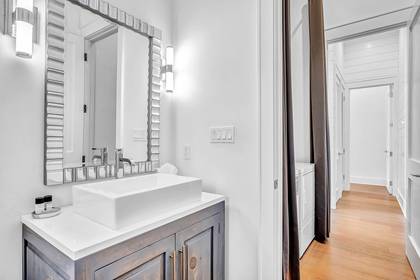 [84]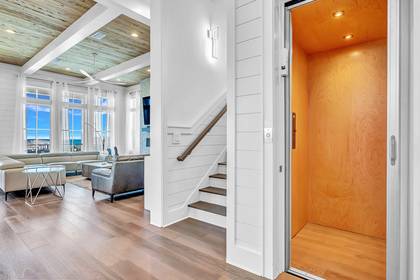 [85]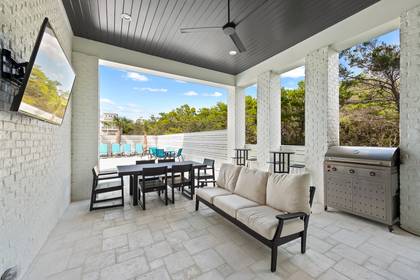 [86]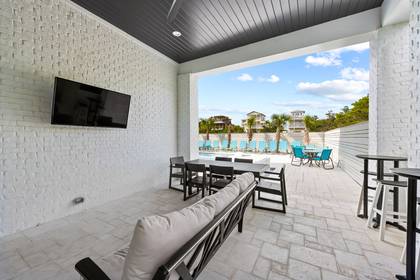 [87]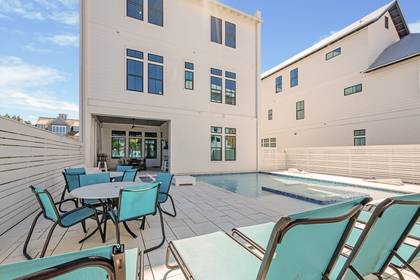 [88]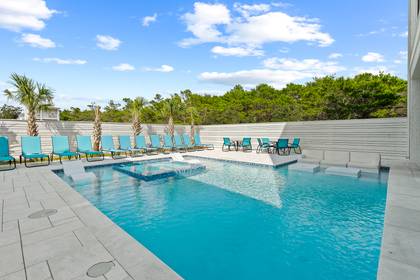 [89]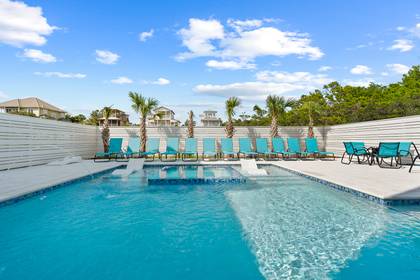 [90]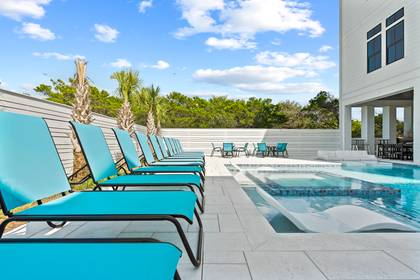 [91]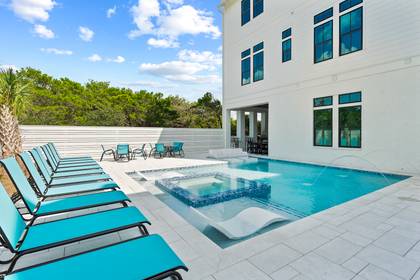 [92]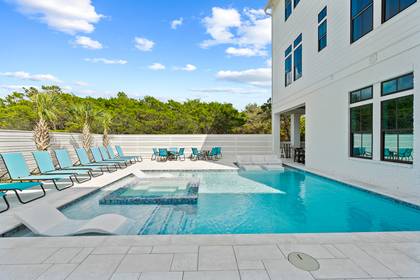 [93]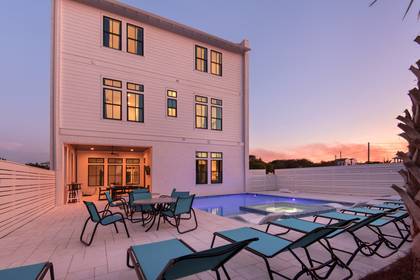 [94]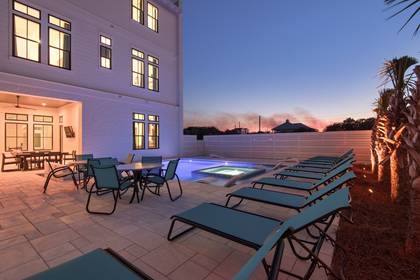 [95]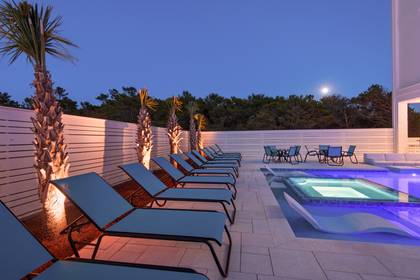 [96]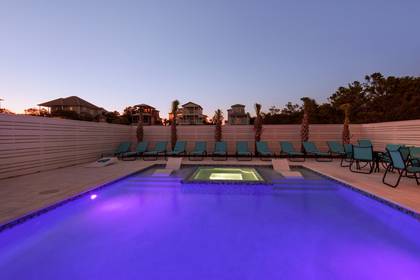 [97]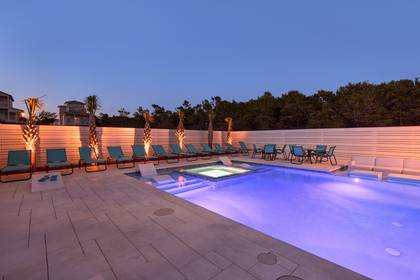 [98]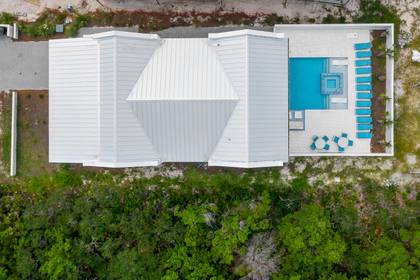 [99]
7 Bedrooms
7.5 Baths
Take your next trip to the Emerald Coast from basic to breathtaking at this extraordinary, three-story luxury home in quaint Inlet Beach. With sleeping space for 32 spread out across 5,700 sumptuous square feet, this elegant residence is ideal for wedding parties, corporate retreats, family reunions, or any other combo of family and friends you can think of. You'll also enjoy the flexibility of multiple living areas, a private pool, tons of parking, and easy beach access.
On the ground floor, double doors lead into the first of three living areas. A sectional sofa and armchairs sit on cool tile floors and face the mounted HDTV. This entertaining space also includes a ping pong table, a refrigerator, and glass doors that lead out to the pool. Down the hall are a king suite and a bunk room.
Take the stairs or elevator up to the main level living and dining area. Soaring vaulted ceilings and windows with high transoms create a feeling of sunny, open spaciousness. In the spectacular kitchen, a huge quartz-topped island faces the custom, inlaid vent hood. Luxe, premier appliances include a double Sub-Zero refrigerator and a gas Wolf range. There's casual bar seating for five on the island and two massive formal dining tables.
The main living area features a sectional sofa and two oversized armchairs. A gigantic HDTV is mounted over the modern fireplace and a wet bar is an ideal spot for pouring happy hour cocktails. Outside through the glass doors, there's a comfy outdoor lounge space and an alfresco dining table. This main level also includes two private bedrooms— a bunk room and a king suite—- a laundry room, and a powder room.
Continue up the stairs— or hop in the elevator— to the penthouse level. Here you'll find two elegant king suites, each with a full ensuite bathroom and custom, cozy, built-in bunk spaces. Down the hallway lies another laundry room and the final living area— complete with two tufted sofas, a large HDTV, and a wet bar. Open the glass doors to reveal a soaring, private deck with tons of lounge space and panoramic views of the sparkling Gulf of Mexico. The primary bedroom suite includes a king-size bed, HDTV, doors leading out to the balcony, and a sliding barn door into a spacious ensuite bathroom with double vanity, soaking tub, walk-in closet, and step-in shower.
Back down on the ground level, the sun-kissed, resort-style pool is the perfect oasis to work on your tan, practice your backstroke, or catch an afternoon siesta in the shade. There's plenty of shaded lounge space, a gas grill, corn hole boards, and outdoor dining space. A shallow platform in the pool cradles a unique, upholstered pool couch that will be a popular place for your crew to chill and relax. When you want to hit the beach, there are two easy access points within walking or biking distance from your front door. And all the dining and shopping in downtown Rosemary Beach are a short drive away.
PROPERTY HIGHLIGHTS:
• Professionally designed
• Plenty of parking
• Private, resort-style pool (can be heated for a fee)
• HDTVs in all bedrooms
• 3 living rooms and 2 laundry rooms
• Easy walk to the beach
* Complimentary beach chair service (March - October)
• 6 Complimentary Bikes Provided
HOME LAYOUT: (Sleeps 32)
FIRST FLOOR (Sleeps 10)
• Living area with a ping pong table
• Covered patio, pool, and hot tub
• King suite with bathroom (Sleeps 2)
• Bunk room with two queen-over-queen bunks (Sleeps 8)
SECOND FLOOR (Sleeps 10)
• Kitchen and primary living and dining area
• Balcony with lounge and dining space
• Laundry room and powder room
• Bedroom with king bed and ensuite bathroom (Sleeps 2)
• Bunk room with two queen-over-queen beds and attached bath (Sleeps 8)
THIRD FLOOR (Sleeps 12)
• Bedroom with king bed, queen-over-queen bunk, and ensuite bath (Sleeps 6)
• Bedroom with king bed, twin-over-twin bunk, and ensuite bath (Sleeps 4)
• Primary bedroom suite with king bed, and ensuite bath with separate tub and shower (Sleeps 2)
• Third living area with gulf-view balcony
Location:
32413
Inlet Beach
,
FL
United States
30° 16' 30.6156" N, 86° 0' 22.0752" W
Florida US